Academic Management
Manage major academic tasks and processes, such as assessment creation and gradebooks, efficiently. Monitor class performance and share performance data with students and parents.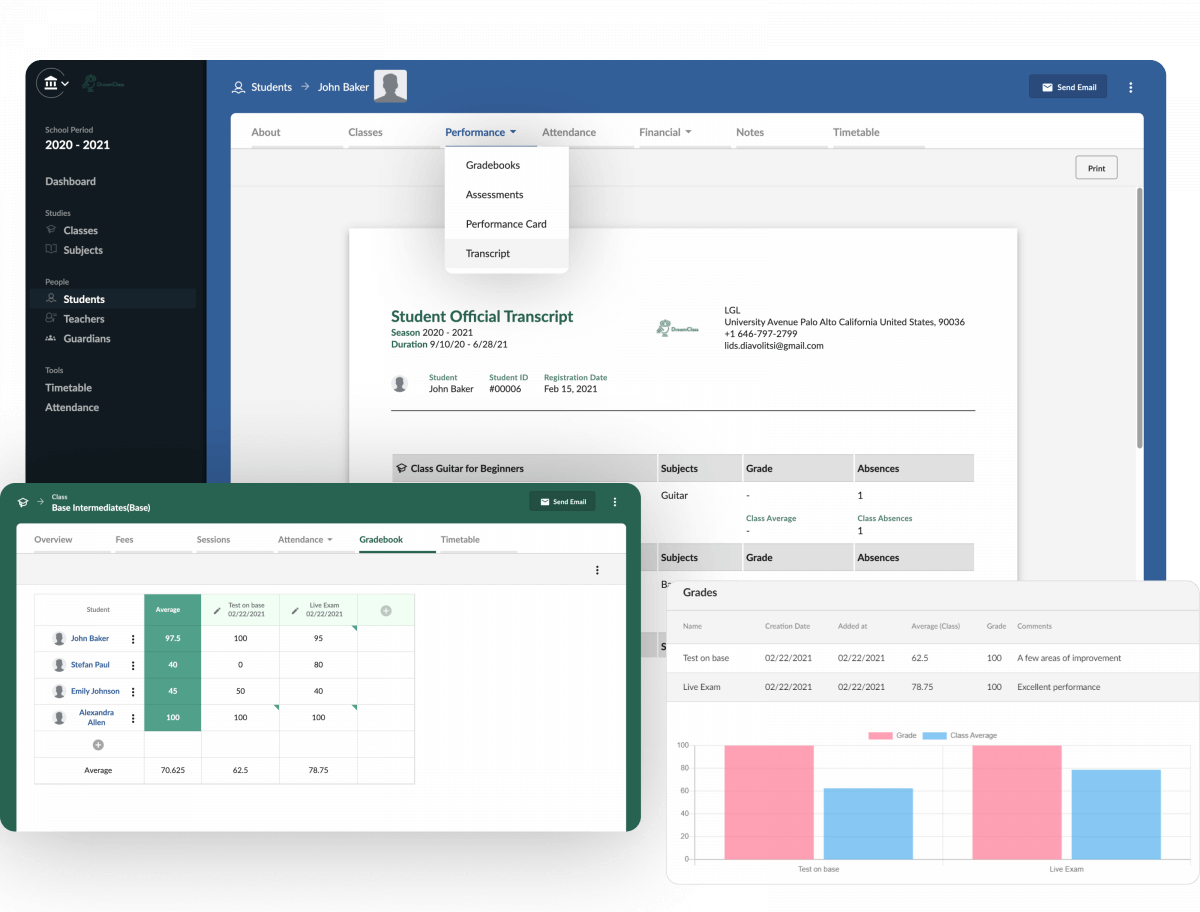 What is it about?
With DreamClass, you can make performance tracking more efficient; supporting administrators' and teachers' productivity. More specifically, you can have easy-to-edit gradebooks for all of your subjects, gathered in one place. You can also make the assessment process less distracting, with easy-to-create student evaluation notes.
Gradebooks
Easily create gradebooks for all of your school subjects. You may have gradebook creation remain an administrator's responsibility; or, alternatively, you can delegate that task to teachers, holding them responsible for any gradebooks pertinent to classes assigned to them. In either case, they can create gradebooks in a flexible way; with multiple grading periods easily added and average grade values automatically calculated. Teachers can easily grade all students at once and work on their gradebooks, in retrospect. Grades, once added in gradebooks, are shared with students in their profile.
Assessments
Teachers can easily add assessment notes on-the-fly, directly on the profile of each one of their students. They may add these notes during class or at a later time; and they may use these items as a reference, to personalize instruction during class. Assessments notes, once added, are visible and accessible to administrators.
Key benefits
Have all the information you need gathered in one place and provide more personalized instruction within the class.
Save time by making the most out of automated calculations. Use the extra time to further improve on your teaching methods.
Make the transition from "paperwork frustration" to "electronic records" and promote eco-friendly approaches in your school.
Share grading data with students and promote student diligence.
Easily work on grading data in retrospect, wherever you are; use your findings to further improve on your educational process.
Have all of your performance data safely stored in one place.
Don't waste time retrieving performance related information and be ever-prepared for a parents briefing.