Admission Management
Streamlined admission management that digitizes, automates and upgrades all aspects of the admission process cycle:

Admission application creation
Applicants data collection
Admission progress tracking
Application review and student enrollment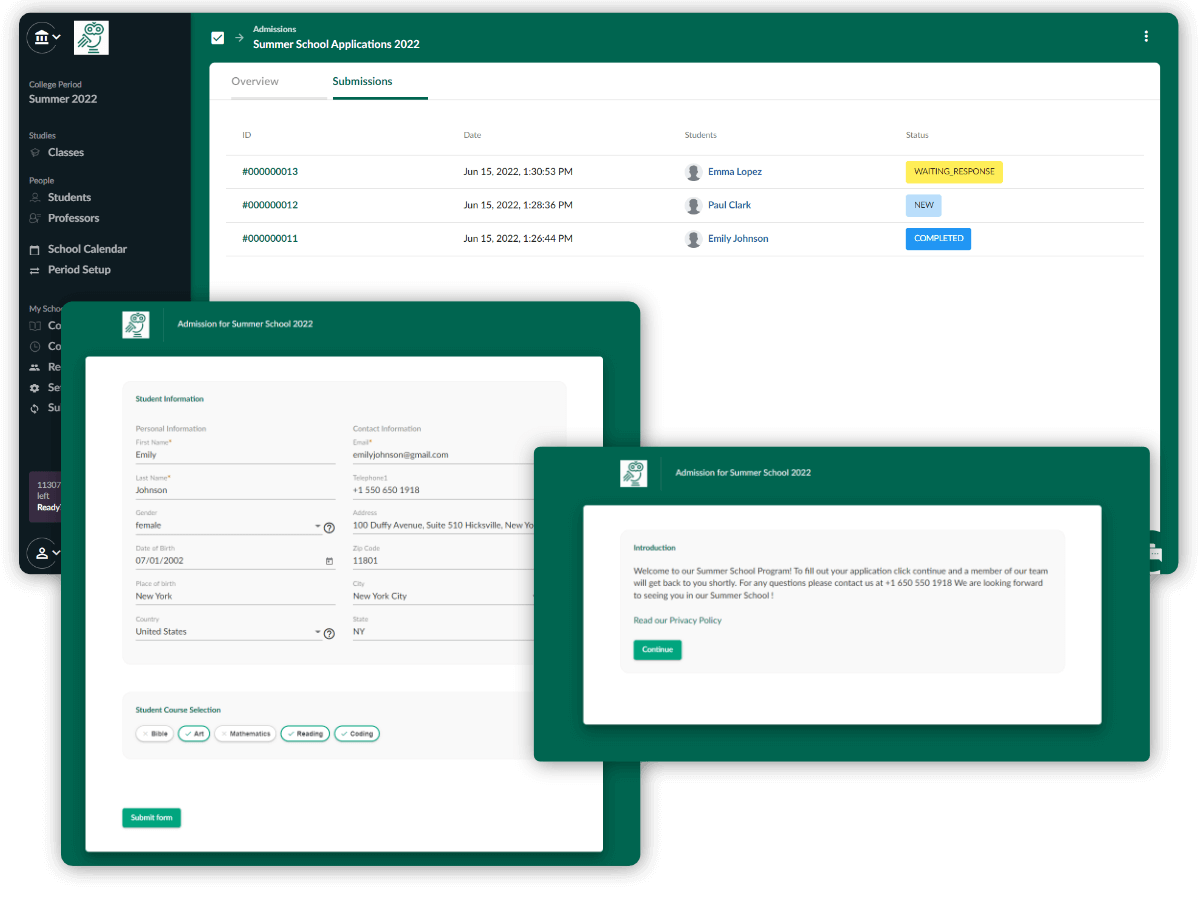 What is it about?
With DreamClass you can make the most of the fully customizable admission forms already created for you. You can create public and private admission application forms to easily enroll new students or re-enroll registered students in new school periods in seconds. You may target different audiences of applicants with student and guardian-oriented admission forms and serve your growing school community the best possible way right from the beginning.
Create admission application forms from scratch, with ease
Start working on a basic application form template, with fundamental data fields that allow you to collect students' and guardians' personal /contact information in an automated way.
Collect applicants' basic information in a proper way, with optional and required data fields, already prepared for you.
Make your application form as simple or as sophisticated as you may need it to be, deactivating default data fields you may not need.
Shape your application form the way you want it, by easily dragging and dropping data fields, to rearrange their final position on the form layout.
Easily add extra sections in your admission application form, to gather additional information, adding custom data fields and placing them the way you prefer.
Preview admission application forms before you share them with students and/or guardians, to make sure everything is in place.
Warmly welcome students and guardians with an introductory text added in your application form; or use the devoted space to add helpful instructions.
Have your applicants properly informed before they proceed with their application, by including a privacy policy and terms of use links, without a hitch, in the template form.
Serve different admission needs your school may have, by simply creating multiple application forms per school period.
Effortlessly share admission application forms with your audience (students or guardians)
Easily create public admission forms and use the links produced in your website; or share them with applicants, to help them submit their information.
Alternatively, create application forms using the private template; and share them within your school community assigning them to students that are already enrolled in your school. Give them the option to re-enroll, by choosing their preferred courses, with only a few clicks.
Create guardian-oriented forms and give parents the chance to add multiple students at once, creating and sharing one single admission form. Τhe digital form you'll share auto-generates multiple student card fields, for your guardians to add as many students as they need.
Work on your submission forms
Get notifications on new submitted application forms. Receive an email once an application form is submitted, to start working on it right away.
Review a convenient list with all submitted applications you receive, neatly stacked in one place; in your admission management system. The applications are ready for you to work on.
Make the most out of the multiple statuses available, to label a submitted application, and keep tabs on your admission cycle. Set the status of an application you received as New, Processing, Completed, Closed, Waiting Response or Rejected.
Find exactly what you need, in seconds, by sorting submitted applications by type (status label), date submitted or the student's name.
Easily review submitted forms (applications list) and work on each student's application to either create a new student card (new entries) and/or to inspect course selection (student's re-enrollment).
Keep track of all actions performed on a submitted application, by both the applicants (e.g. student deselecting a course) and the administrators (e.g. admin labeling an application as completed). Actions history is visible to both the student and the administrator.
Key benefits
Minimize the work required to prepare admission forms
Reuse admission forms you have created and save time
Allow for a huge number of students to self-register, releasing administrators — or other roles burdened with the admission management process — from needless workload.
Collect student and guardian data at once, and forget all the bureaucratic repetitive tasks you've been struggling with, in the past.
Easily create and use different admission forms, for different occasions, within a single school period
Reduce the time needed to process admission applications, making the most out of our sorting functionality, application labeling and other automations
Reduce the costs incurred by creating (and managing) non-digital admission forms. No need to print and share numerous copies of admission forms; simply share the generated link and you're done, quickly and eco-friendly