Student Portal
Give your students access to their personalized dashboards. Allow them to view their bell schedule, their attendance data and other important information regarding their studies.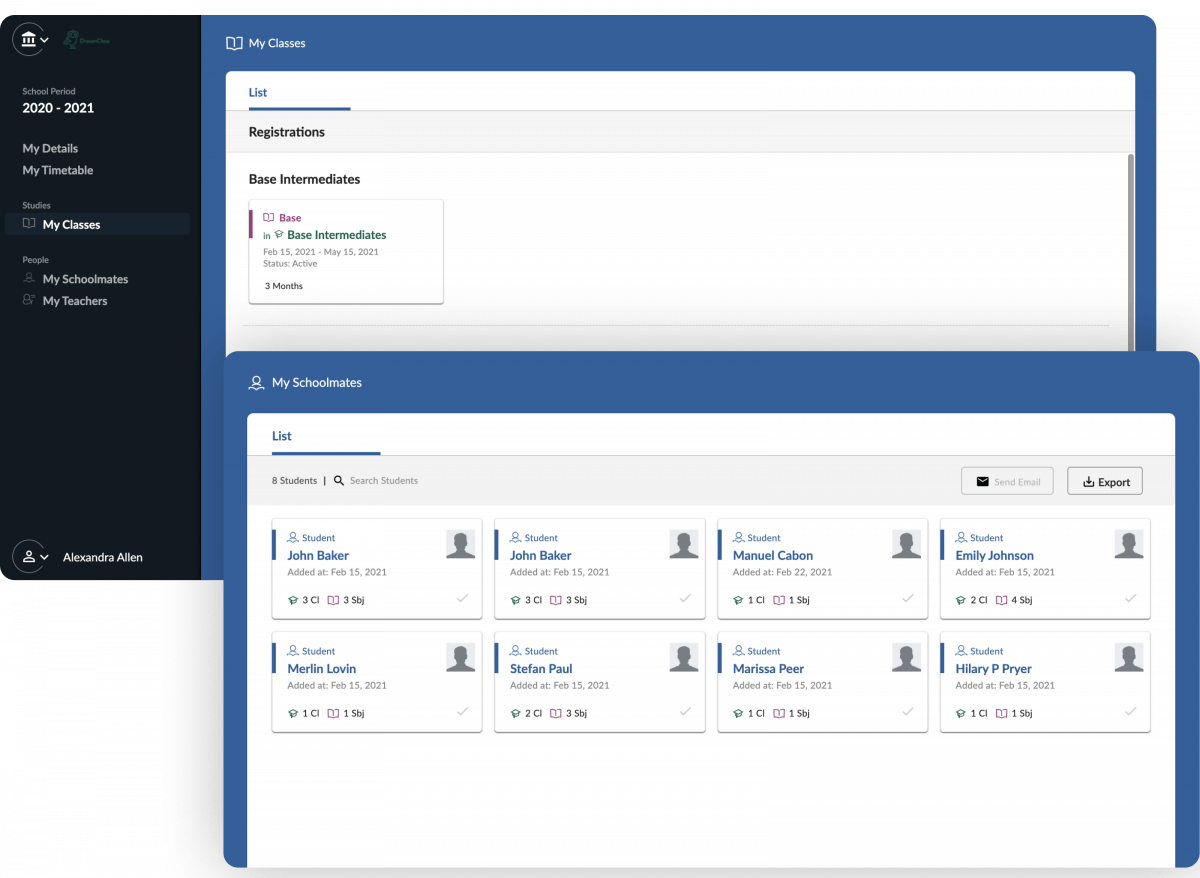 What is it about?
Once students log into their account, they can take a quick look at useful information on their personalized dashboard. A compact summary of upcoming lessons and today's attendance data, along with a brief description of their fees and payments, helps stay updated.
And there's more. Students are also able to view more detailed information:
Attendance data
Help students keep an eye on their attendance statistics up, hitherto. Students can filter their attendance data for a specific date range and see details, such as the number of excused or unexcused absences and more.
Student performance
Students may also get an overview of their progress, as they can view grades and comments, once they're submitted in the system by their teachers.
Weekly timetable
Apart from the daily schedule in the dashboard, they may also get a detailed view of their weekly bell schedule.
Payments
Details regarding their fees and incoming and due payments, such as date, amount, duration, hours etc., are also available to students.
And, so far, it's only about keeping them in the loop. But, you may also allow your students to interact and perform the following actions:
Communicating with teachers
Each student is able to view the list of their classmates and teachers and then they can easily get in touch with them, by sending an email through DreamClass.
Updating contact data
Students are also able to view and edit basic personal information, such as address and contact details. They may also further personalize their account, by updating their profile picture.
Key Benefits
Keeping your students updated regarding bell schedule changes helps them stay updated and focus on their studies.
Allowing students to keep an eye on their performance records enables them and their teachers to be on the same page and work together on improvements.
Providing attendance data helps hold students responsible, regarding their studies.
Allowing students to correct and/or update basic contact information helps keep school data up to date; and also helps save administrators' time.
Offering a platform that, among other things, provides communication channels between your students and teachers, encourages students' progress and improves school-life.
Offering an all-in-one system that enhances students' participation, improves student engagement and empowers your school's prestige.