Student Portal
Give your students access to their personalized dashboards and help them find useful information regarding their studies.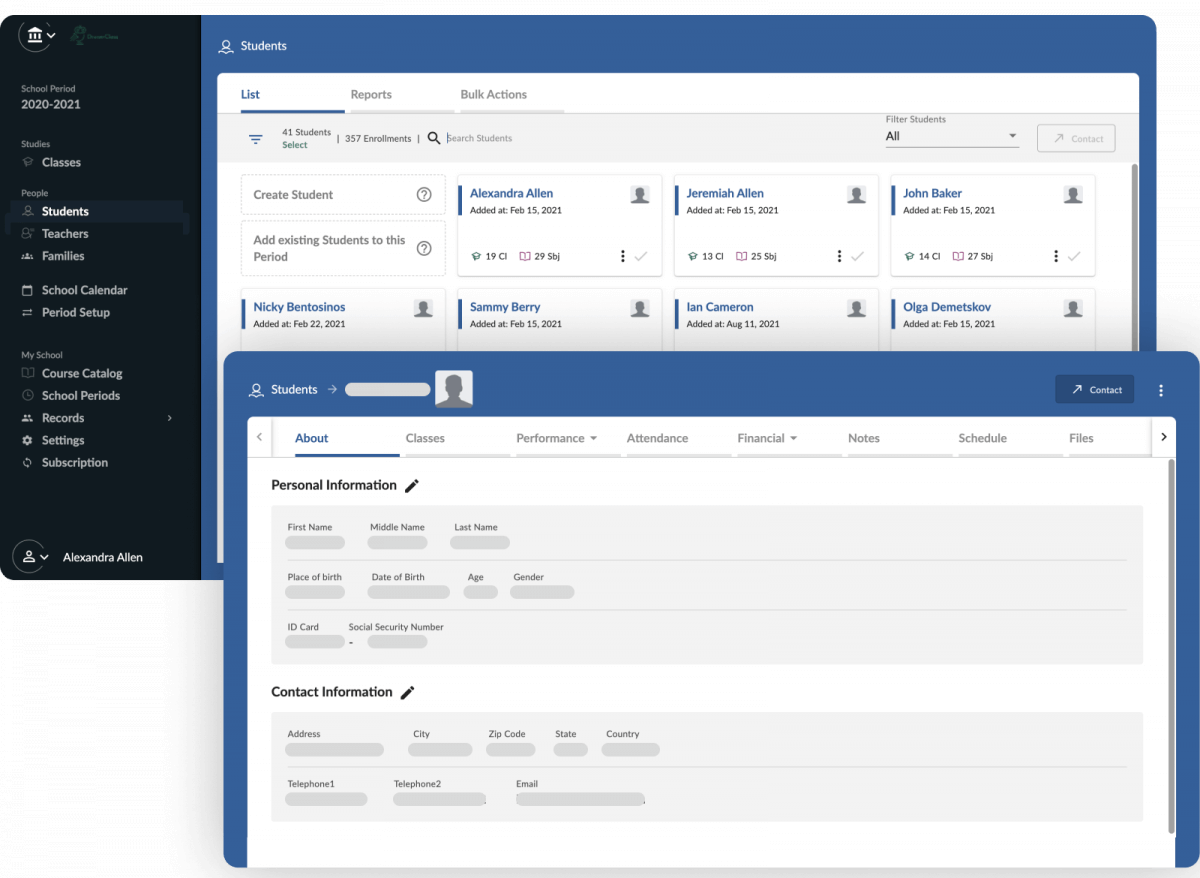 What is it about?
Students are able to login to their profile, where they get access to personalized schedules, attendance summaries, invoices and payment receipts. In their portal, they're also able to take action; i.e. submit admission applications, pay their fees, contact teachers and students and keep tabs on their studies; as a whole.
Fill in admission applications
Oversee invoices issued; and proceed with tuition payments
Keep tabs on attendance data
Personalized timetable, with scheduled lessons and events
Get in touch with teachers and students
Submit admission applications
Students are able to fill in admission application forms you've assigned to them, in order to re-register in a new school period; or to enroll in a new school program you may run, in parallel. Admission forms help capture students' lesson preferences, asynchronously, giving them the leeway to submit their applications on their own, releasing admins from the extra workload.
Keep an eye on their attendance summaries
Students are able to glance over attendance summaries that refer to the courses they've been enrolled to; also, filter their data by date, see details such as the number of excused or unexcused absences and tell whether it is justified and excusable or not.
Keep an eye on issued tuition fee invoices
Students are able to view tuition fee invoices issued to them, in their profile. Tuition fee invoices contain all the pertinent details (dates, sums etc.), helping students keep an eye on outstanding debts. Invoices come with filtering functionality, allowing students to see unpaid, overdue, paid or canceled invoices, per case, and pay their dues on time.
Proceed with tuition fee payments using their preferred payment method
By logging into their accounts students can easily pay their tuition fees using PayPal, a valid credit card or a popular digital wallet such as Apple Pay, Google Pay, Venmo etc. All you need to do is enable this feature from your account, as administrator.
View statements of tuition fee payments
When students proceed with their tuition fee payments, they'll be able to view payment records in their profiles. Administrators create these records that serve as proof of payments (cash, bank transfer, online payment) for fees they have received; and, students can oversee and print those, if needed.
View their personal schedule containing scheduled lessons and events
Students are able to navigate through their personal calendars, where they're able to view all the lessons added by administrators; lessons correspond to the courses each student has been enrolled to. Lessons, be they scheduled, completed or canceled, come with extra information added by teachers; such as title, content and notes, to provide extra context for students.
Contact teachers and classmates
Students can reach out and contact teachers, to get help on questions they may have, directly from their profile. Similarly, they are also able to contact classmates, if they need to collaborate on homework projects.
Key Benefits
Keeping your students updated regarding bell schedule changes, helps them stay updated and focus on their studies.
Allowing students to keep an eye on their performance records, enables them — and their teachers — to be on the same page and work together on improvements.
Providing attendance data helps hold students responsible — and accountable — regarding their studies.
Allowing students to correct and/or update basic contact information, helps keep school data up to date; and also helps save administrative time.
Offering a platform that, among other things, provides communication channels between your students and teachers, encourages student progress and improves school-life.
Offering an all-in-one system that enhances student participation, improves student engagement and empowers your school's prestige; thus, helping you stand out from the competition.