Student Management
Gather all of your student data in one place. Create student profiles and manage a long list of student-related processes, such as admission, performance, attendance and tuition fees, in a smart way.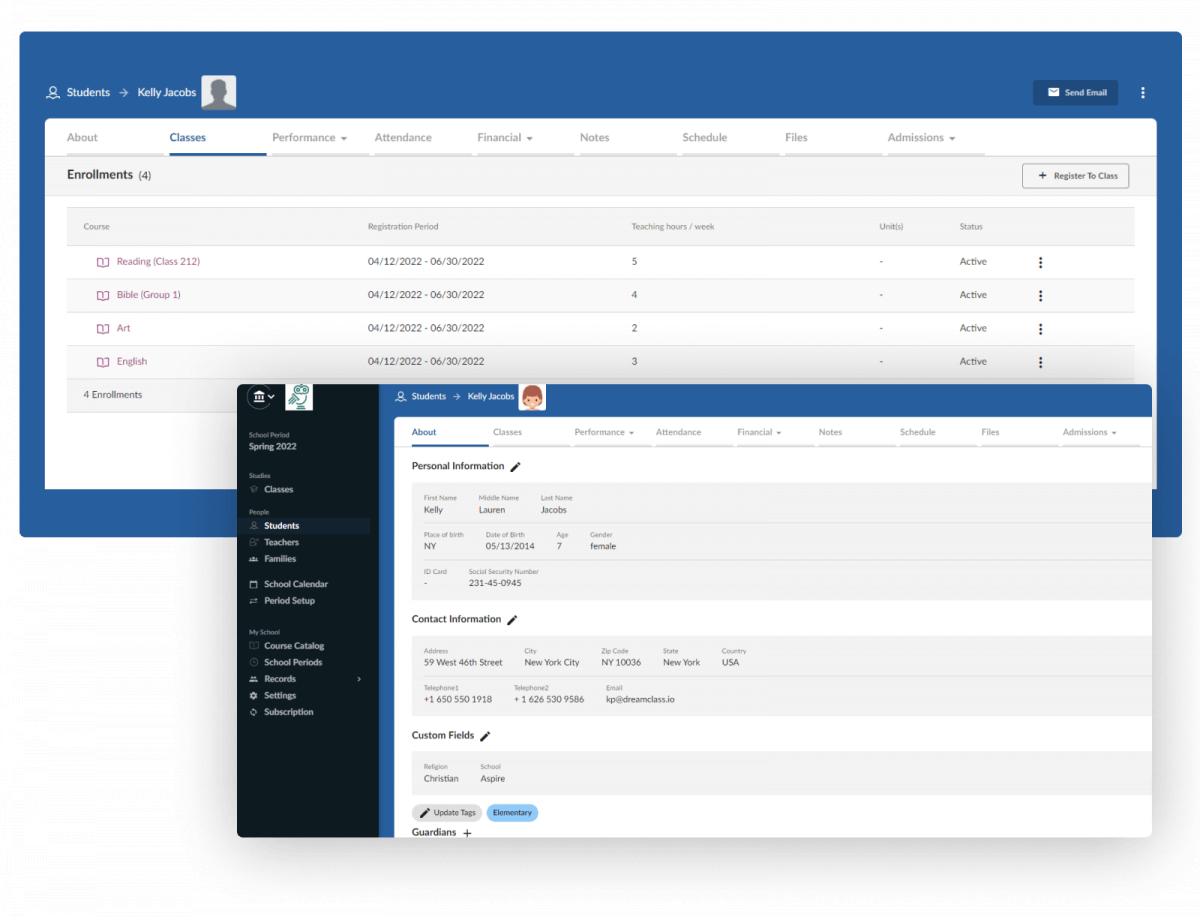 What is it about?
DreamClass offers the utilities you need to manage all student-related data, in the best possible way. It's more than student information management software. And it helps school administrators and teachers perform fundamental administrative tasks:
Student Registration
Register new students into a school period easily; by creating online student profile cards, with basic personal information. For existing students, you don't need to repeat the process; just add existing students from past school periods to the current one, with a few clicks.
Gradebooks
Transfer your gradebooks online. Create different, editable grading periods, with automated calculations (e.g. average per class, etc.) for each one of your courses. Help your teachers create and manage gradebooks for their classes; and allow for students to stay updated regarding their grades, with a quick look at their profile.
Student Transcripts and Performance Reports
Make the most out of automatically created reports and transcripts; and quickly work on student performance data:
Create assessments for each one of your students, defining details, such as course, teacher, etc. The assessments will also be available on their profile.
Quickly navigate to your student's gradebooks, to view or do some further work on each one of them.
Performance report cards are ready for you to get an overview of grades, assessments and attendance data (at the student level).
Have a student's official transcript populated with details, such as grades and absences (per course), total average, etc. It will be automatically created and ready for you to print.
Fill in details for passed/failed courses, such as results (pass/pending/not passed), adding extra details, such as duration and earned units
Attendance
The easiest way to manage attendance data is by allowing teachers to fill in the attendance data. Take attendance and instantly share it with administrators or teachers; informing parents and guardians accordingly.
Communication
Instantly contact students, teachers, parents and guardians, directly from your account. Make the most out of the available pre-made contact lists; and send batch emails to group members, to inform or notify them of important issues.
Tuition fees
Keep track of tuition fees, payroll and all outstanding payments. DreamClass allows payments in installments and lets you monitor your incoming and outgoing payment history.
Extra functionality
Filter Students using custom tags
Create tags to group students and find the information you need, in seconds. You can filter the student list by tag; quickly find students labeled with the same tag, such as full/part time or attending morning, afternoon or evening classes.
Create custom fields and save additional information
Create custom fields of text, numbers or checkboxes on student profile cards; save additional information, such as extra emergency contacts, planned programs of studies they may enroll in. Add in whatever makes sense for your school.
Upload docs and files
Upload and save documents of essential information into student profiles. That is, information pertinent to admission data, such as Certification of studies, proof of identity, proof or residence; or any other type of information important for student management.
Add quick notes on student profiles
Add notes to student profile cards, to store additional, easy-to-find information.You can decide whether each note should be visible to a student or teachers — or both — or not. Also you may add color-coded tags, to find the information you need, with a quick scan through your student notes; without even reading them!
Key benefits
Automate the majority of the tasks you perform on a daily basis. Help administrators and teachers save time.
Have all your student information gathered in one place. Make searching and retrieving student data a breeze. This includes gradebooks
Centralized student management. e.g.How many allocated per class? What's each student's academic path?
Keep track of important information, such as graduation status, diligence, attendance and compliance with state regulations
Enable your entire staff and faculty to access information centrally. No more administrative hassle, minimal amount of handoffs, virtually zero time needed for information retrieval
Eliminate mistakes stemming from paperwork.
Cut down paper usage, switching to a paperless school management system that comes with way more economic and ecological benefits.