Student Management
Have all of your students' data gathered in one place. Create student profiles and manage a long list of student-related processes such as admission, performance, attendance and financials in a smart way.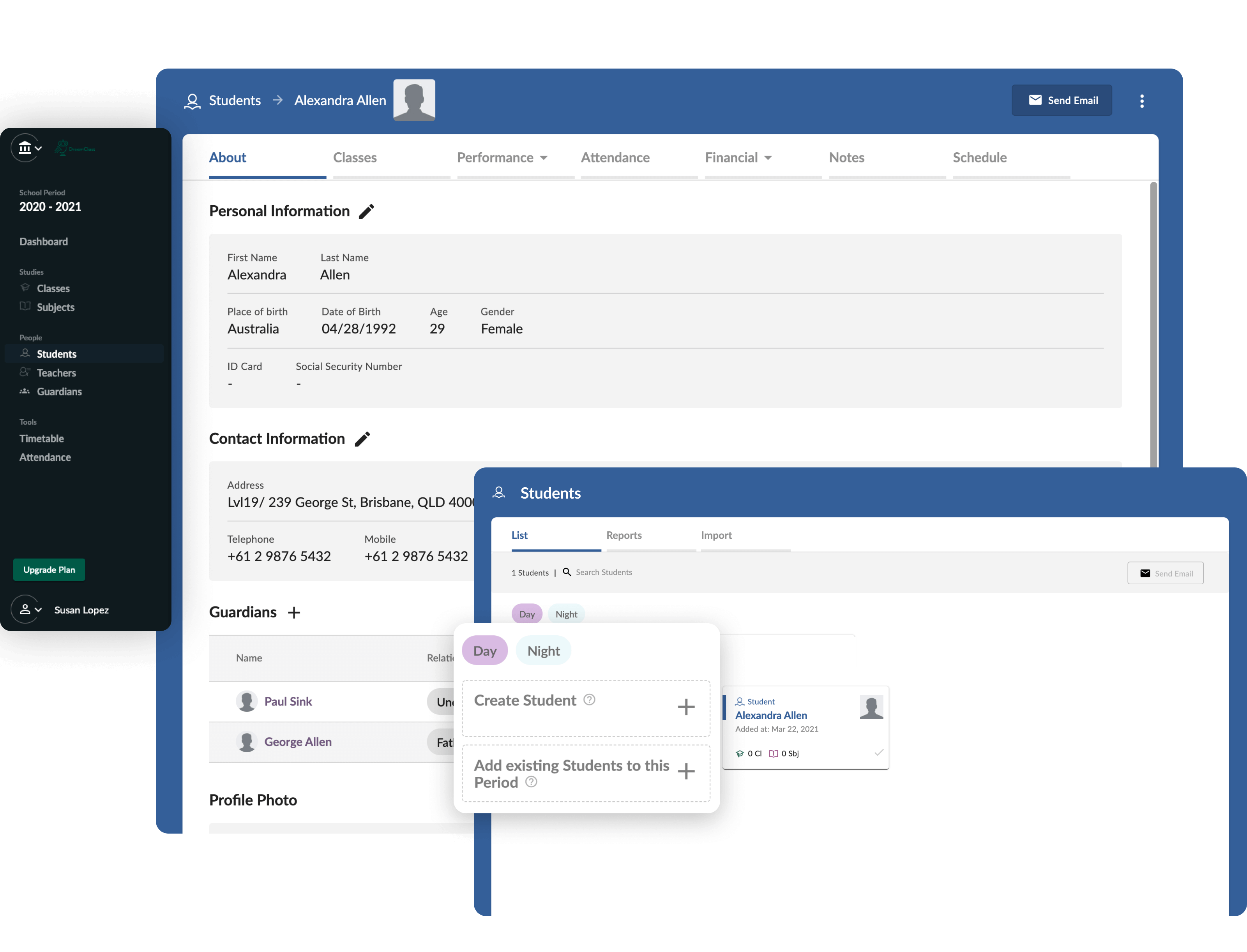 What is it about?
DreamClass offers the utilities you need to manage all student-related data, in the best possible way. It's more than a student information management software. And it helps school administrators and teachers perform fundamental administrative tasks:
School Enrollment
Register new students to your school period easily; by creating online student profile cards with basic personal information. For past students you don't need to repeat the process; just add students from past school periods to the current one, with only a few clicks.
Admission management
Easily assign your enrolled students to classes and subjects. With a few clicks, you can add students to different groups of educational levels; and/or distribute them to groups of the same educational level.
Performance
Transfer your gradebooks online. Create different, editable, grading periods, with automated calculations (e.g. average per class, etc.) for each one of your subjects. Help your teachers create and manage gradebooks for their classes; and allow for students to stay updated regarding their grades, right from their profile.
Attendance
The easiest way to manage attendance data by allowing teachers to fill in their students' data. Administrators or teachers can inform parents and guardians accordingly.
Communication
Instantly contact students, teachers, parents and guardians from your account. Make the most of the available pre-made contact lists and send batch emails to group members, to inform
or notify them regarding important issues.
Tuition fees and financials
Keep track of students' tuition fees, teachers' payments and all outstanding payments. DreamClass allows payments in installments and lets you monitor your incoming and outgoing payments history.
Key benefits
Automate the majority of the tasks you perform on a daily basis. Help administrators and teachers save time.
Have all your student information gathered in one place. Make searching and retrieving students' data a breeze.
Eliminate mistakes stemming from paperwork.
Cut down paper usage, switching to a paperless school management system that comes with way more economic and ecological benefits.