Teacher Management
Have all your teachers' data gathered in one place. Easily assign teachers to classes and subjects, track payments and manage all related tasks with efficiency.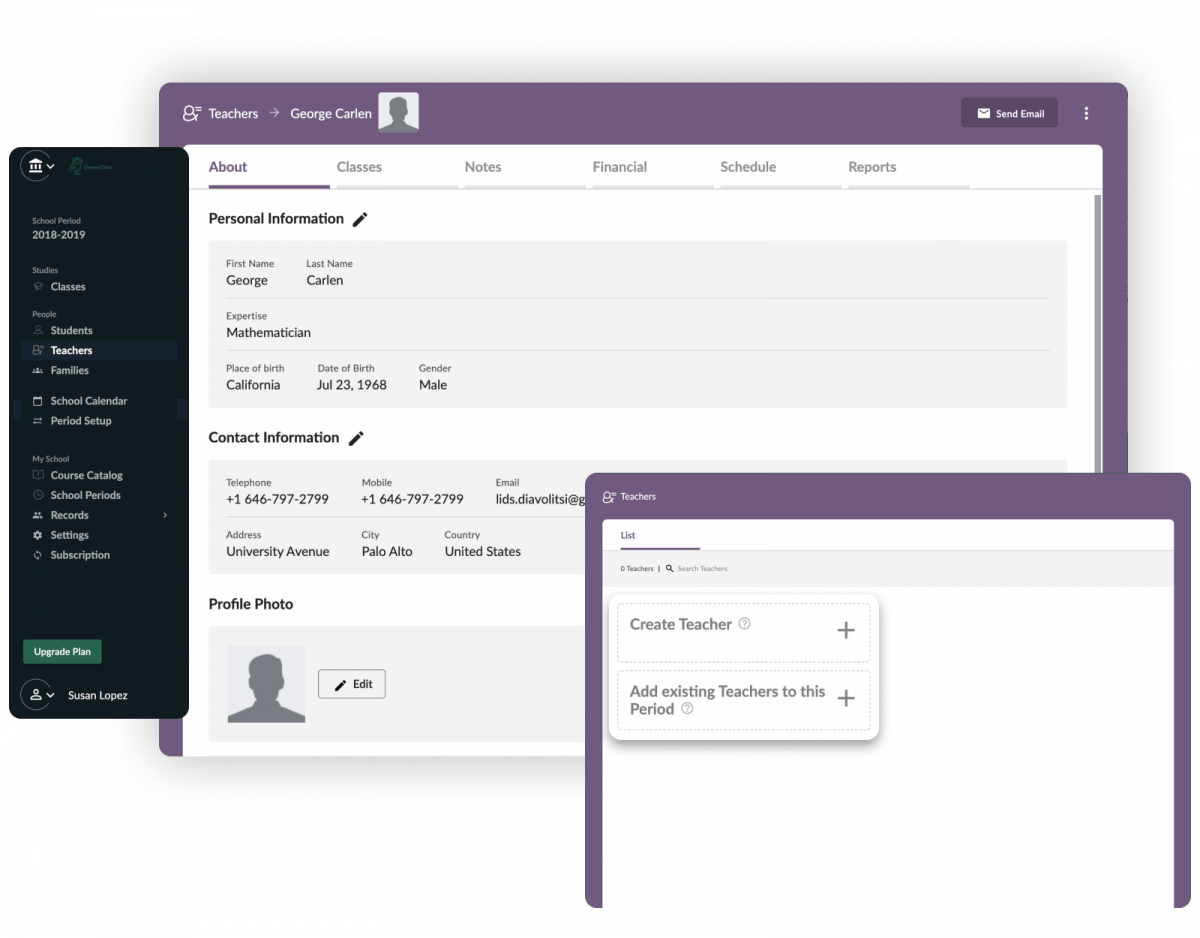 What is it about?
Create online teacher profile cards, storing personal and contact information, qualifications and any other type of information, using custom-made fields. Assign teachers to classes, keep track of the scheduled lessons (hours) they have completed, and monitor tutoring payments. Add notes and tags to filter data efficiently and communicate with teaching staff, en masse.
Create customizable teacher profiles
Monitor lessons scheduled and teaching hours completed
Keep track of teachers' payments
Manage your communication with teachers
Easily create online teacher profiles
Use ready-made forms to store personal and contact information, including teacher profile photos, which is useful when new colleagues get on board. Create your own extra custom fields in teacher profiles, to store additional information, such as teacher's present teaching position, eligibility level, training, special qualifications etc. Fields may store text, numbers or predefined field values; and you can have them ready in seconds.
Make most out of teachers' information, using reports
Make the most out of reports containing teachers' information, such as the number of lessons they teach within a given period; also, lessons completed and lessons canceled. Filter data per teacher and export and/or print, if needed.
Easily communicate with teachers, en masse or one by one
Contact groups of teachers, simply by filtering teacher lists by tag, such as full time or part time; or any other label you have created and assigned to each one of them. Alternatively, visit teacher profiles to inspect individual information, structured in the respective cards (assigned classes, payments, personalized schedule and report on assigned lessons) and contact teachers directly from the app.
Monitor teachers' payments, by storing the respective information in their profiles
Associate teacher profiles with tutoring payments. Use the payments card in the teacher's profile to store payments a teacher has received during a school period. Keep track of total teaching hours, amount of money the teacher has received, payment type (generic payment or paycheck) and payment timestamp.
Make well-informed decisions on time with sophisticated functionality
Efficiently store and easily retrieve information pertinent to current educational and managerial issues, such as teachers' payments. Easily create notes, using forms in teachers' profiles; group them with tags and find everything you need on time, so that you make well-informed decisions.
Monitor teaching activities and duties
Once you set the ball rolling, you may use teacher cards to keep track of teaching-related progress. Among other things, this includes information such as courses you have assigned a teacher within a given school period, notes with pertinent information, along with a personalized schedule, containing all the lessons you have scheduled for said teacher. The same information is also available to them through their portal.
Efficiently manage teachers throughout school periods
No need to re-register (past) teachers to new school periods; you just need to add them with a single click; and you can continue to monitor and manage all the relevant information.
Key benefits
Help administrators save time, allowing them to orchestrate all teacher-related processes
Improve internal communication between the secretary's office — or registrar — and teachers
Reduce paperwork, having all of your teachers' data gathered in one place
Release administrators from overhead workload, allowing teachers to independently perform teaching-related administrative tasks.