Class Management
Create an online representation of your classes, group students into classes, assign teachers and enjoy flexibility in all administrative tasks involved in class management.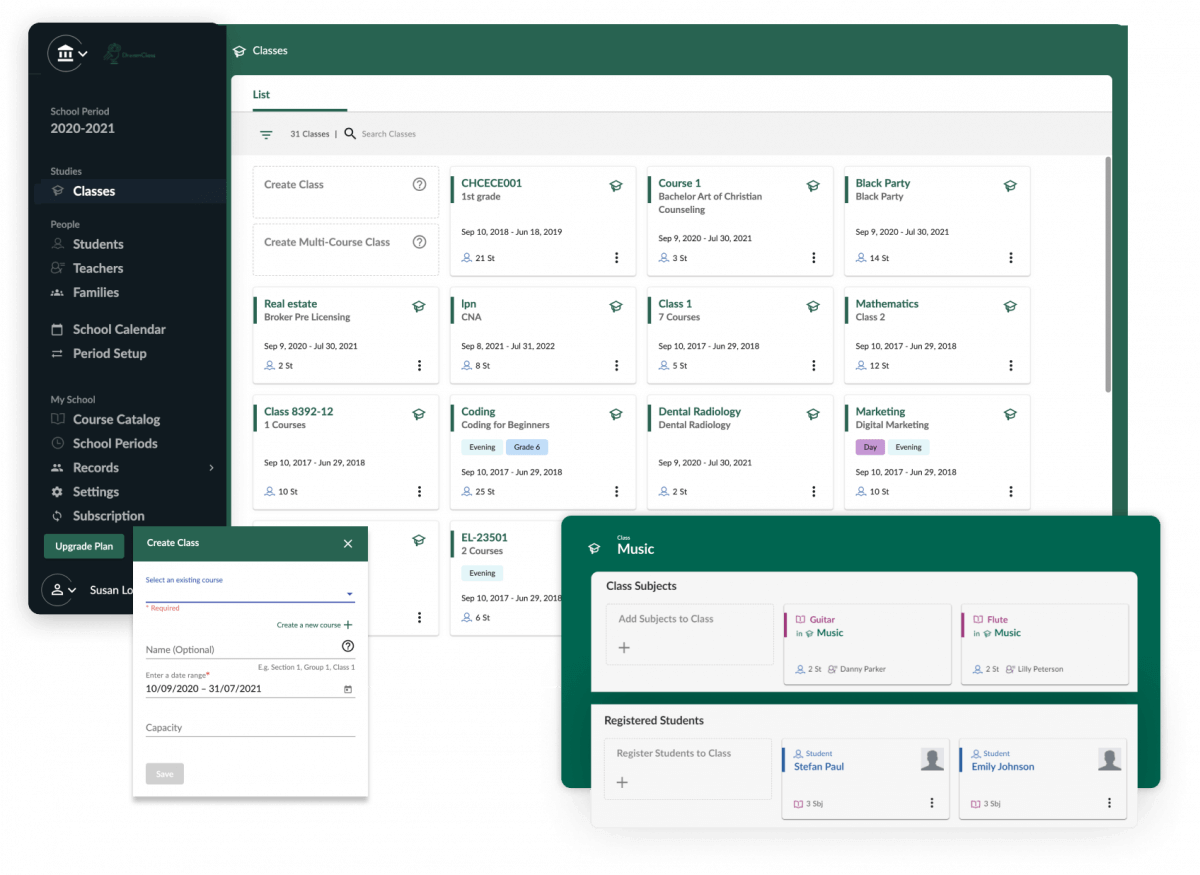 What is it about?
Create a digital representation of your classes, structuring classes into levels, to aptly represent your school program. Easily manage both the educational and financial aspects, with parameters such as class course units; and with cards, such as class fees. Distribute students into classes, based on allocated capacity; assign teachers, create class schedules, track class attendance and monitor performance, with class gradebooks. Make the most of sophisticated functionality, such as class cloning, importing past students, grouping classes with tags, class reporting etc.
Customize classes, specifying capacity, enrolling students and assigning teachers
Track educational information, such as course units, class grades and finals
Schedule classes and monitor attendance
Monitor class fees
Keep an eye on class reports
Have all class-related information gathered in one place
Create the schedule for each one of your classes and track class attendance, simply by working on lesson instances containing all relevant information. Add class notes (available to both teachers and administrators). Monitor performance-related data, such as class gradebooks, class results (passed, not passed) and class's final grades; complete with timestamps and the option to add comments, so that you get the most pertinent information.
Distribute students to groups, enrolling them to classes
Specify the capacity of your classes and have a hold over the number of students you enroll in each one of them. Having all necessary information available, the moment you make relevant decisions, makes administrative tasks much more efficient.
Keep tabs on teaching workload, as related to each one of your classes
Determine teaching hours, per week, for each one of your classes. Oversee teaching flow in terms of time, teachers you'll assign as contributors and fee monitoring, as corresponding to said teaching hours.
Keeps tabs on course units assigned to classes
Specify course units for a class (if needed) to keep track of the credit points a student must earn to successfully complete a course. Course units, of all the classes a student has been enrolled to, are available on their profile cards.
Easily monitor class fees
Easily create one-off or recurring fees for a class and assign them to students enrolled in it, with a single click. Keep tabs on class fees and have all pertinent information, such installments, totals etc., within reach.
Cluster classes in groups, with tags
Use tags to label groups of classes; and easily filter classes within a current school period. This way, you can easily find the classes you need to work on; especially in case your curriculum structure is way too complicated to sort out at a glance. You may use tags to differentiate required from elective courses; or any other clustering need, for that matter.
Clone classes and import students from past school periods
In case you need an unaltered version of a class you have already parameterized, you can easily do so. Create a duplicate that inherits all assigned fees and then work on it, from scratch, to make additional changes. Likewise, you can import all students enrolled in a Class of another school period; and assign fees upon importing.
Make the most out of reports and data pertinent to class management
Get an overview of class attendance summaries for a certain period and keep tabs on daily absence records easily, by filtering data by date. Also, contact the class's students and guardians at once, with the help of the class roster that contains relevant contact information.
Make teachers responsible for class management
Assign one or more teachers to be responsible for a class; and have them manage gradebooks, performance data and pertinent information independently, from their own access portal.
Key benefits
Keep all class information gathered in one place and eliminate paperwork
Make smart decisions when building your class structure, using available information, such as class capacity
Minimize the repetitive work needed to manage your classes, with the help of sophisticated functionality, such as class cloning and student importing
Improve coordination between teachers and the students of a class