Teacher Portal
Give your teachers access to their profile; help them efficiently manage their classes, students and school-related tasks and processes, such as gradebooks and assessments.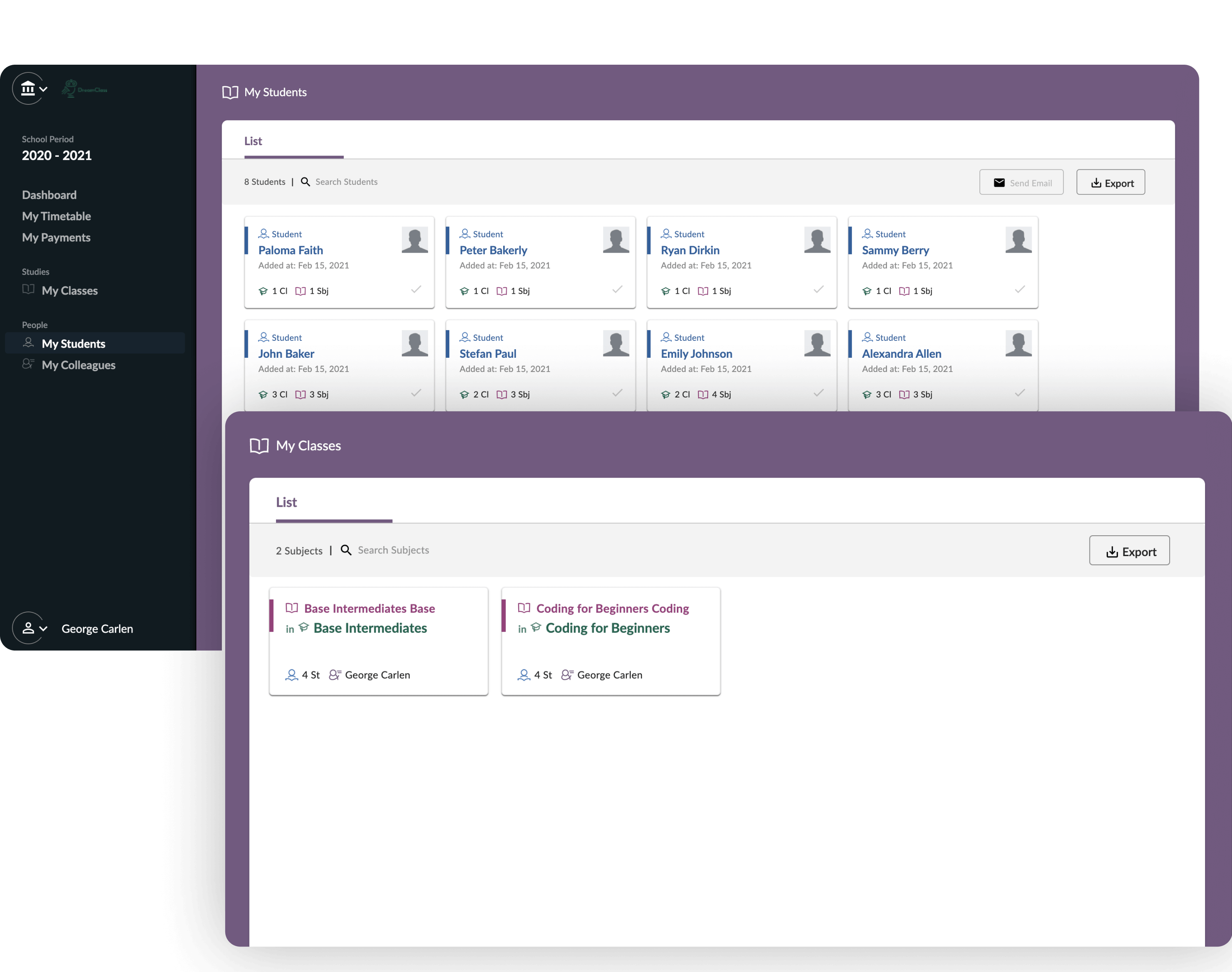 What is it about?
Teachers can get the most out of DreamClass by logging into their personal account, where they can view customized information. There, teachers can have a quick update regarding today's teaching sessions, a summary of the latest attendance data — when they need to quickly notify parents — and a short overview of their latest payments.
Apart from that, teachers can work on tasks related to teaching subjects assigned to them; and may also access the profiles of students enrolled in these subjects.
Teachers can work on their classes'/subjects' data
Teachers can create gradebooks for each one of their teaching subjects, where they can create grading sessions, fill in students' grades and complement with comments. Alternatively, they may just add scores on gradebooks that are already prepared by administrators. Gradebooks are available for teachers and administrators to work on in retrospect, taking into account the extra feedback they gradually accumulate in the classroom.
Moreover, teachers are able to take attendance for each teaching subject, register this data online, in DreamClass, making it visible to administrators.
Teacher can work on each student's data
Teachers are able to view and update students' profiles. That holds true for students enrolled in their classes; and thus make it available for teachers to contact parents or guardians, if necessary. Moreover, teachers can create assessments for each one of their students. That information is sharable to administrators, allowing them to produce final grades for the parents' briefing. Teachers are also able to add online notes for each one of their students, which is useful in many different scenarios.
Teacher's timetable
Teachers can view a timetable version of the classes and subjects they have been assigned, along with classroom information. Any changes made by administrators appear on these timetables, keeping everyone in the loop.
Communicate with colleagues, students and guardians
Teachers are able to contact students, colleagues and guardians massively or personally, by sending an email through the DreamClass portal, whenever necessary.
Teachers can view their payments
Finally, teachers also have access to information regarding their payments. Once payment notes are added by the administrator, they're able to view them from their portal account.
Key benefits
Improves collaboration between teachers and administrators.
Enhances communication with students.
Helps administrators and teachers save time.
Reduces paperwork, eliminates frustration and allows teachers to make most out of the available automation.
Helps teachers invest more time in improving their teaching skills, rather than work on tedious, bureaucratic tasks.
Improves coordination and internal communication among all of your teaching stuff.
Offers timesaving functionality for administrators, as they don't need to communicate changes regarding timetables; or put extra effort to take attendance and organize performance data.
Helps teachers work on their tasks effortlessly, from their screen, wherever they are and at any time.
Allows teachers to get a good feel on students' progress, with only a few clicks; giving them a sense of satisfaction and fulfillment, regarding their work routine.
Teachers are able to view past school period data, such as notes on students' performance, ensuring educational continuity.
Having such an efficient tool in place may also help attract talented personnel; and further grow your teaching team.