Teacher Portal
Give your teachers access to their profile; help them efficiently manage their classes, their students, school-related tasks and processes such as keeping gradebooks, create assessments, track attendance and more.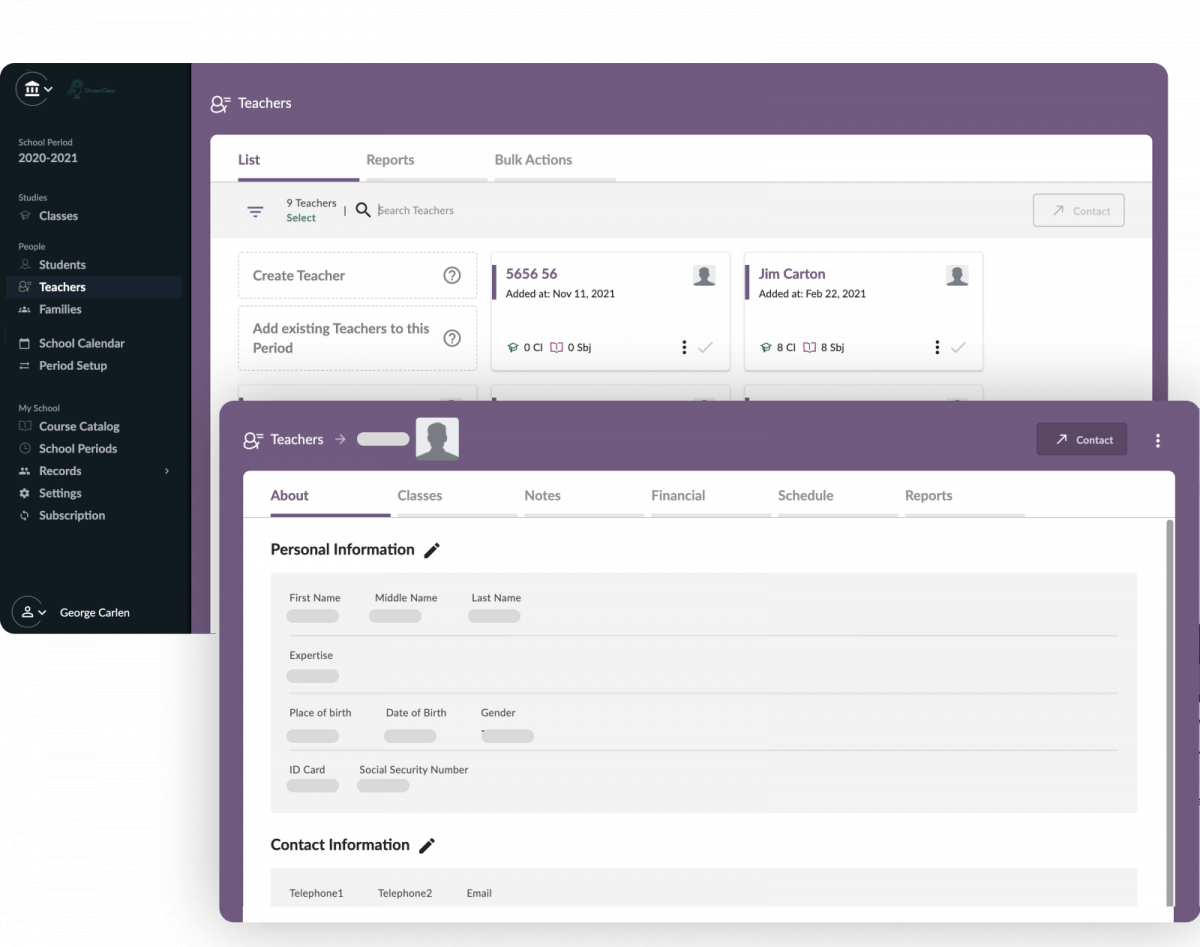 What is it about?
By logging into their personal account, teachers are able to view customized information, regarding the classes assigned to them. Among other things, they're able to view student profiles, scheduled lessons and events, as well as notes added by admins. Actions involve taking attendance, creating gradebooks and assessments and communicating with students and guardians.
Personalized Calendar
Class related information: gradebooks, assessments and performance data
Communication with students, parents and guardians
Attendance tracking
Reports and summarized information
View scheduled lessons on their personalized calendar
Navigate through their personalized calendar and view scheduled lessons, school events and student birthdays. View all the lessons (past, current and upcoming) that have been assigned to them (scheduled, completed or canceled); with pertinent details, added by administrators, such as duration or lesson title. Teachers are not enabled to reschedule lessons themselves — unless they're granted access to login as administrators; but they're able to edit lesson details, such as title, content summary and public notes; helping, this way students, to remain in sync.
Work on gradebooks, assessments and performance data
Teachers are able to work on the gradebooks you have created for them — or create their own, from scratch — to serve the needs of the classes you have assigned them to. They can also notify students and guardians regarding grades, create personalized assessments, fill in class finals and have them shared with administrators.
Communicate with students and guardians
Contact students, guardians and other teachers en masse whenever needed. Monitor communication with students directly from the app and access all required functionality (filtering, details overview etc.) to keep track of and/or work on messages ensuring continuity of communication with a single point of reference.
Take attendance
Teachers can take attendance on scheduled lessons assigned to them; and store said information, in detail; even adding the minutes students have run late, if needed. They can navigate through the attendance calendar and glance over attendance summaries, access daily absence reports, per class; and, generally, work on attendance data, exactly the way administrators do.
Access reports on students' enrollment, scheduled lessons and more
Teachers are able to view and filter summarized information, such as the list of students enrolled in the classes assigned to them, the number of lessons scheduled, completed or canceled within a specific period of time, along with attendance data; and more.
Key benefits
Improves collaboration between teachers and administrators.
Allows teachers to get a good feel on students' progress, with only a few clicks; giving them a sense of satisfaction and fulfillment, regarding their work routine.
Teachers are able to view past school period data, such as notes on students' performance, ensuring educational continuity.