Attendance Management
Easily track and share attendance data, keeping administrators, teachers and parents in the loop.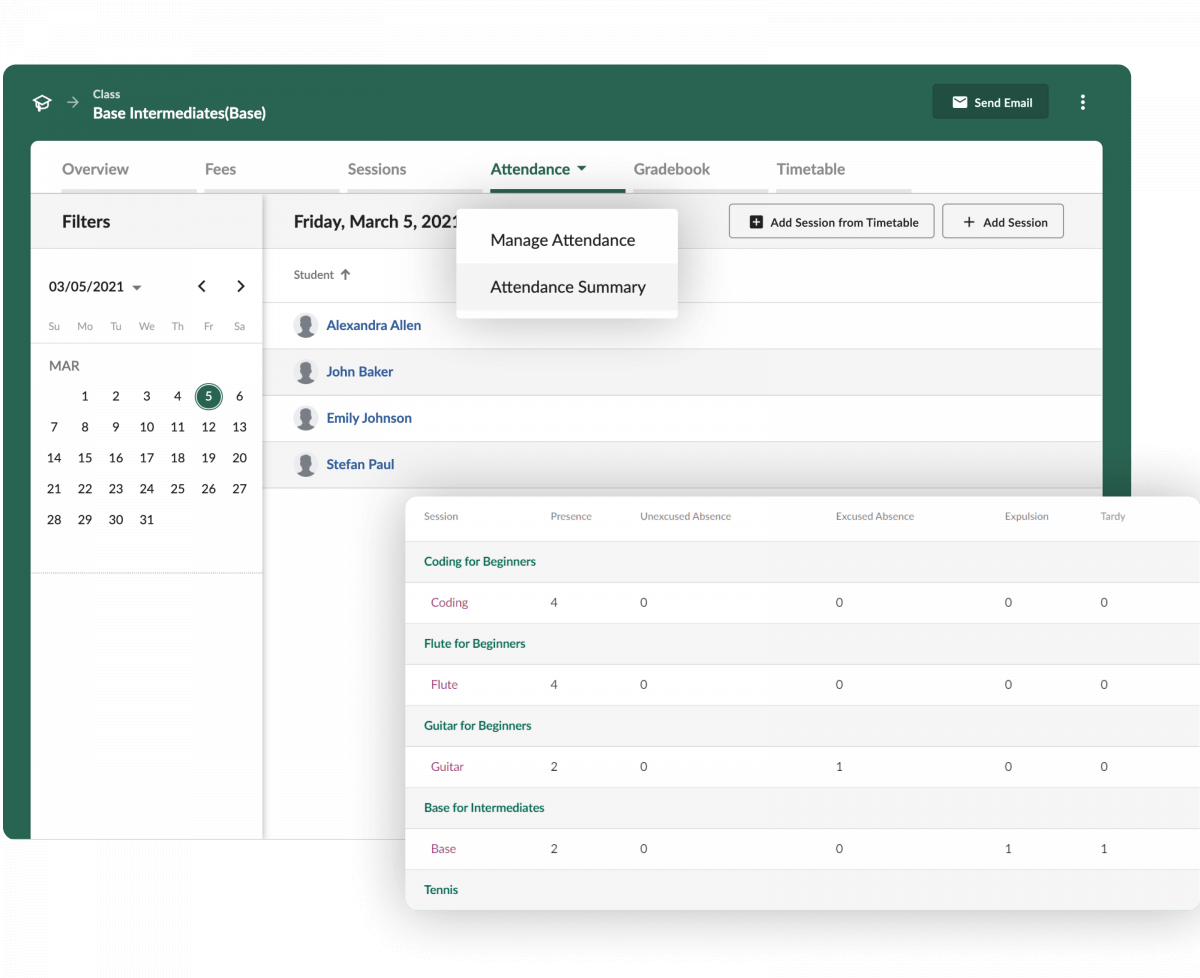 What is it about?
Teachers can take attendance within the classroom; and instantly enter class attendance data on the system, from their account. Once this information is registered, it's automatically available to administrators. Alternatively, administrators can register attendance data for all classrooms.
Share attendance data
Teachers are able to edit and view attendance data for all the classes assigned to them.
With a few clicks, they can update attendance data for all students registered to a class. Moreover, they may also easily create ad hoc courses and take attendance on students registered to them. Updated absence records are instantly available to all relevant personnel; and thus, it's easy to send instant notifications to parents. In the same fashion, students are able to view their attendance data, directly from their account.
Work on attendance data, in retrospect
Easily compare data per student or class; add details, such as the type of attendance value (unexcused absence, excused absence, expulsion, tardy); and use your findings to further improve on your administration process. Have all of your school attendance data safely stored in one place.
Attendance reports
Get automatically created attendance reports with additional student performance data, such as grades; and have them ready to be printed.
Key benefits
Save time for both teachers and administrators, no matter how you go about taking attendance in your classes.
Easily work on attendance data, get an accurate assessment of students' absenteeism; and work towards meeting your school's objectives
Easily use attendance data to work on lesson payments.
Make the transition to an electronic attendance system and eliminate record-keeping errors.
Instantly share attendance data; sync teachers and administrators and notify parents and guardians regarding student absences, as soon possible.