Parent Portal
Manage parent and guardian information effectively and authorize students' representatives to take on a more active role in their studies, through their portal.
Parent and Guardian Management
How to administer and serve parents and guardians with DreamClass
Parents and Guardian Portal
How parents and guardians can independently monitor students' progress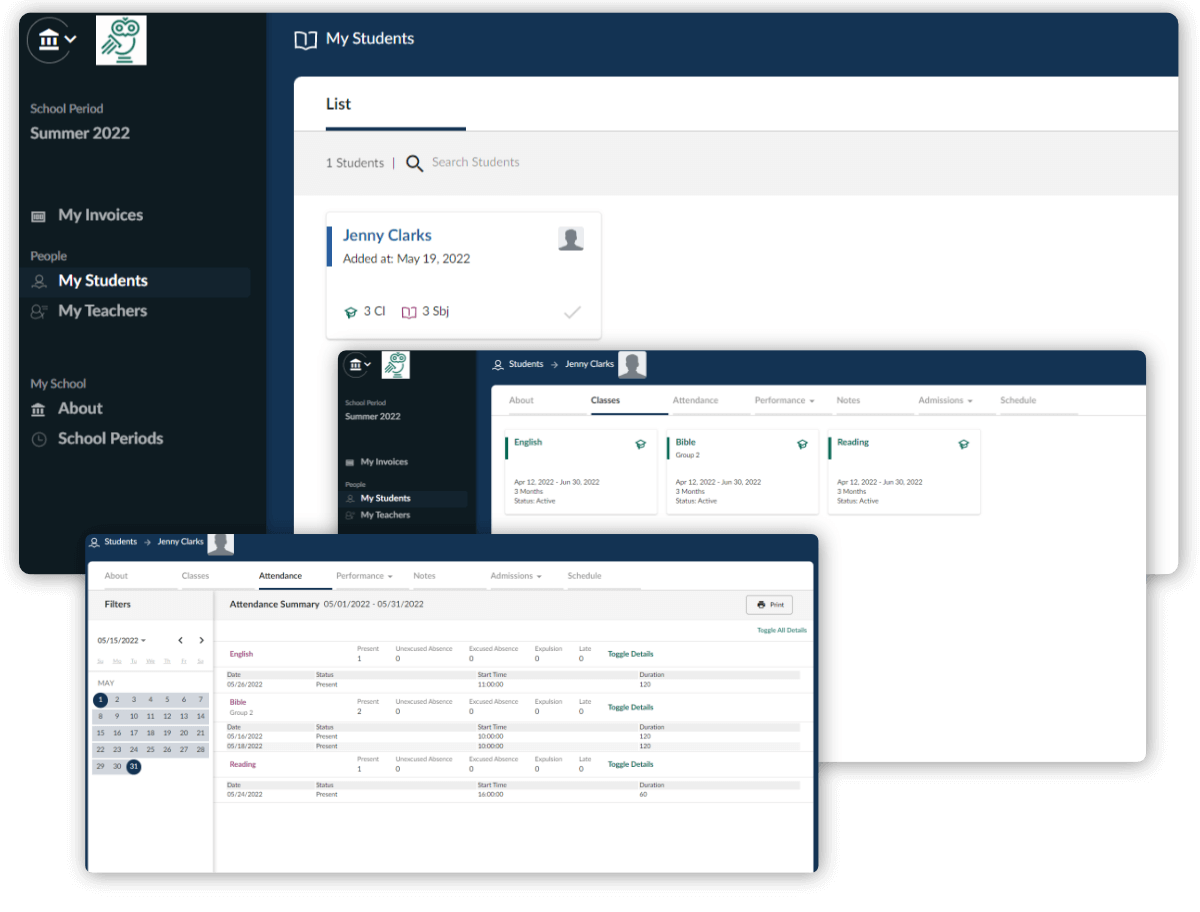 What is it about?
Create digital parent and guardian profile cards, to effectively manage student-related information. Encourage effective parental involvement and engagement, by authorizing parents and/or guardians to access their personalized accounts; thus, releasing admins from the extra workload and nurturing a close and trusting relationship with students' representatives.

Ways you can manage parents and guardians with DreamClass
Easily create Parent and Guardian Profiles, link them with your students and grant access rights for them to login to their personalized accounts:
Use our ready-made cards to store essential guardians' personal and contact information you may need. Cards — just like all related student information — are accessible from wherever both administrators and teachers in charge are.
Store any additional information you may need, such as "best time to call", "mail preference", "work telephone number" etc. that will make the interaction with guardians smoother. Easily create your own custom fields in your guardians' information cards.
Let both administrators and teachers be in the know of who they'll be interacting with, specifying the relationship type between the guardian and the student. You simply select the suitable option choosing among Father, Mother, Grandfather, Grandmother, Stepfather, Stepmother, Uncle, Aunt or Other.
Assign multiple guardians. Associate a student with more than one guardian (if needed) creating the respective profiles and specifying the relation between them.
Easily grant access rights to a student's guardian and share their credentials to get them on board without delay. You may give access rights to all guardians linked with a student profile, to login from their portal.
Manage guardians' access rights in bulk, enabling/disabling guardians whenever you may need to do so.
Have parents, guardians and students grouped in families.

Things parents and guardians can do from their personalized accounts
Parents and guardians are able to perform these following actions, directly from their portal account:
Engage in a students' school life, autonomously
View admission applications assigned to a student, assisting the enrollment process, along with any admission application forms they may have submitted
Be in the know of the list of teachers responsible for their child in a school period.
Contact a teacher directly from their portal or contact all teachers at once, in order to inform them about an issue critical for a student's health, studies or progress.
Keep tabs on information that may need to be updated, simply by accessing student cards with data, such as a student's personal and contact information, as they may have submitted it in the past.
Check out classes each student has been enrolled to, in a school period.
View notes that pertain to a student's performance or any school fees added by school administrators or teachers.
The information above is accessible for all school periods. And that means that parents are able to view student information for current and past school periods; Information for all students/children they connect to.
The Guardian's portal serves as a point of reference for parents and guardians to quickly find any information they may need, including school contact details.
Keep tabs on student attendance
Navigate through their calendar to view and filter attendance data by date or date range
View detailed attendance information, containing a student's attendance status, per course; i.e. present, unexcused absence, excused absence, expulsion or even how late they may have been to class.
Keep an eye on student performance with gradebooks, assessments and report cards
Students' detailed gradebooks, containing class averages and date of entry
Course assessments, assigned by teachers
Report cards, containing performance summaries, with grades, assessments, attendance data
Check out students' schedule
View scheduled courses their children will attend to, on their personalized timetable
Scheduled school events they may need to be aware of, such as parental briefing meetings etc.
Inspect student fees, issued invoices and proceed with payments
View school fees that correspond to classes their students have been enrolled in, in a school period; grouped by student
Stay abreast of issued invoices, easily find relevant information they may need, using filters, such as unpaid, overdue, paid, canceled invoices for each school period
Parents and guardians can also safely pay student fees, directly from their account, using their preferred payment method, such as Venmo, Google Pay, PayPal, Stripe, Apple Pay and Braintree
Key benefits
Lay the foundation for your collaboration with guardians, offering convenience in your interaction, right from the beginning of the school year or term, simply by giving them the alternative of accessing and proceeding with admission applications remotely.
Nurture collaborative relationships and interactions between parents/guardians and teachers, without the intervention of administrative staff as a prerequisite.
Help parents stay in the loop of important upcoming due dates, related to tuition fees or important school events — visible on the student's calendar — such as parental briefing.
Help parents and guardians pay tuition fees on time, directly from their portal.