Timetable Management
Easily create, modify and share your bell schedule with students and teachers.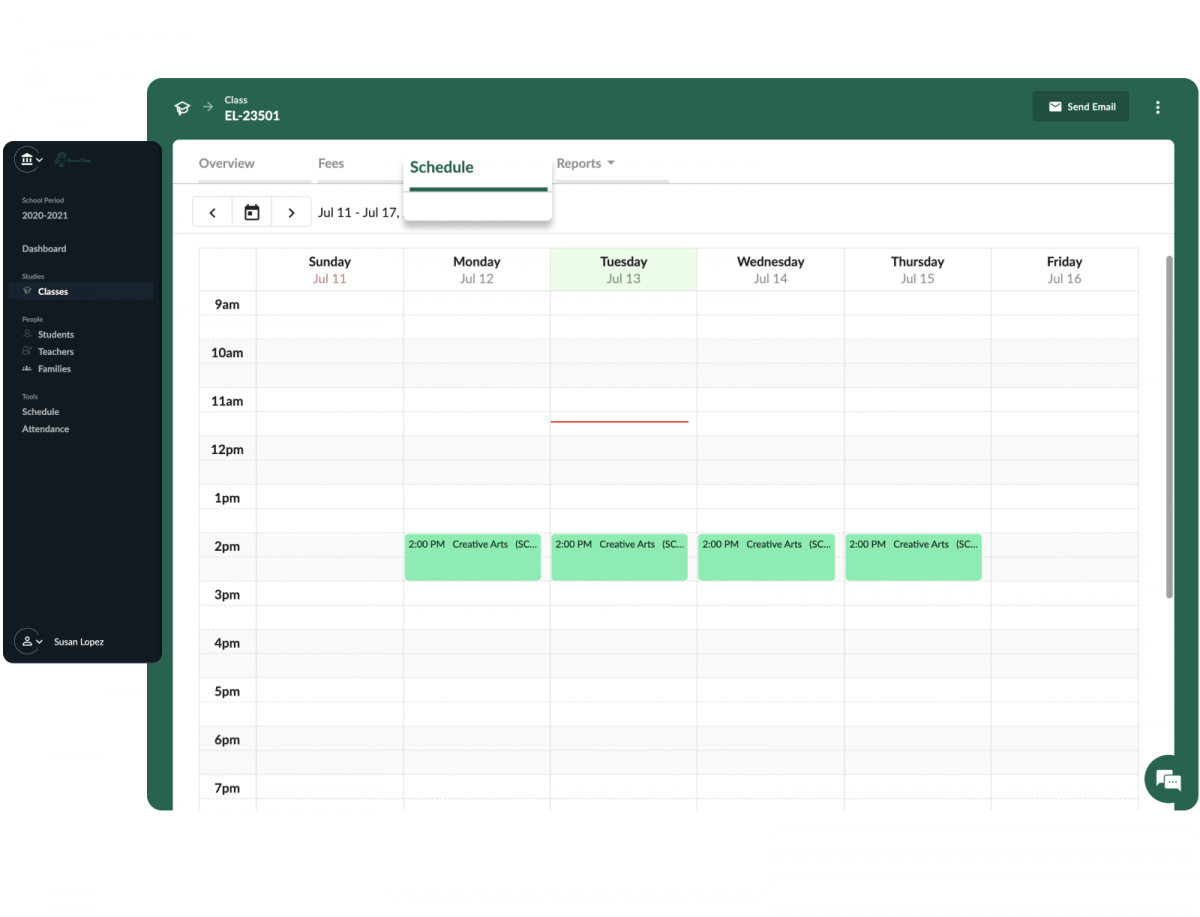 What is it about?
Simplify the way you manage your bell schedule. Create and adapt your timetables the way it best fits your school's needs.
Build your timetable efficiently
Easily create your timetable structure; define and edit working days, create time slots and set the duration of each teaching period. Once you have your timetable skeleton ready, distribute classes to timeslots and map them to classrooms. This way, you have your school's timetable ready to get the ball rolling.
Feel free to create multiple timetables
And if you want to further edit your timetable, you can easily do so; or you may alternatively choose to clone and modify an older timetable. With DreamClass, you can create multiple timetables and activate only one of them at a time. This feature is really useful if, for example, you run different educational programs in parallel; or if your school needs change from time to time. All timetables you create are saved as candidates and are ready to be activated whenever that suits your educational goals.
View and filter your timetable items
Get all the information you need from your timetables no matter how huge/detailed they are.
Available utilities help you filter timetable's data by teacher's name or class focus on what matters each time. Just cast a glance on your filtered timetable and make sure everything is ok. This functionality is useful when, for example, you have multiple classes scheduled and you want to verify the availability of a classroom or a teacher's workload.
All the functionality above allows administrators to run timetable management the way it best fits your school's needs.
Sharable timetables
In the same fashion, teachers and students are able to view their personal timetable; one that only shows the classes they've been assigned to or enrolled in. And that, only by logging into their profile from the respective portal.
Key benefits
Get all the flexibility you need in creating and managing your timetables 
Go paperless 
Reduce complexity and enjoy drag-and-drop functionality in creating classes, subjects and classrooms 
Leverage timesaving processes for your administrators
Have your timetables online and eliminate paperwork 
Enjoy a smart way to manage your timetables. No need to throw away all the work you've already done, to create timetables
Keep teachers and students updated regarding timetable changes and ensure uninterrupted flows