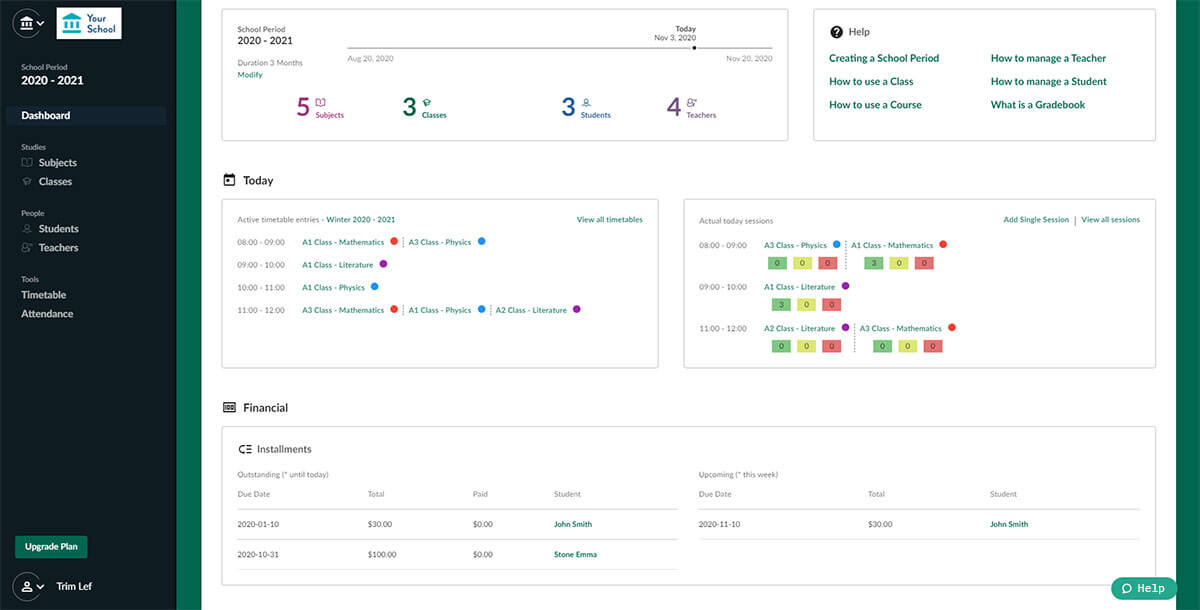 What's better than having all of your school data at your fingertips? That was exactly our thought when we started upgrading our app a couple of months ago. And here we are now with our new dashboard that gives you a snapshot of your school data. That's the core upgrade you'll notice but not the only one.
Our new timetable management and our clear navigation menu will have you hooked on your new school management system. And that from all your mobile devices because as you'll notice we have also improved our mobile user interface. The new, polished DreamClass is here, ready for you and your team/teachers to check it out!
Your school at your fingertips with our new Dashboard view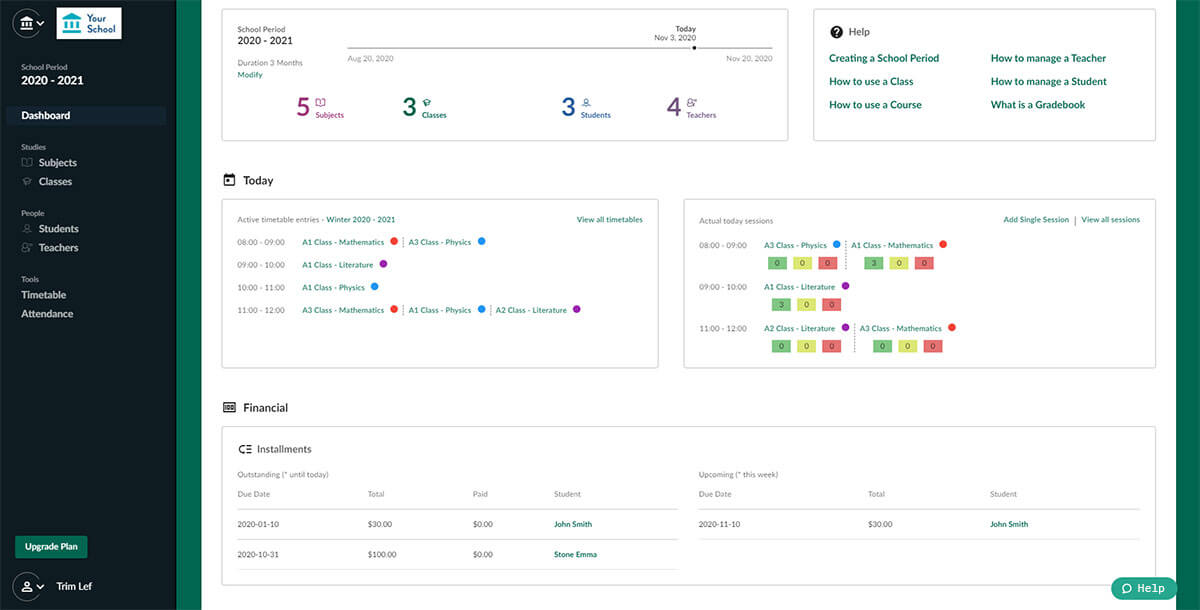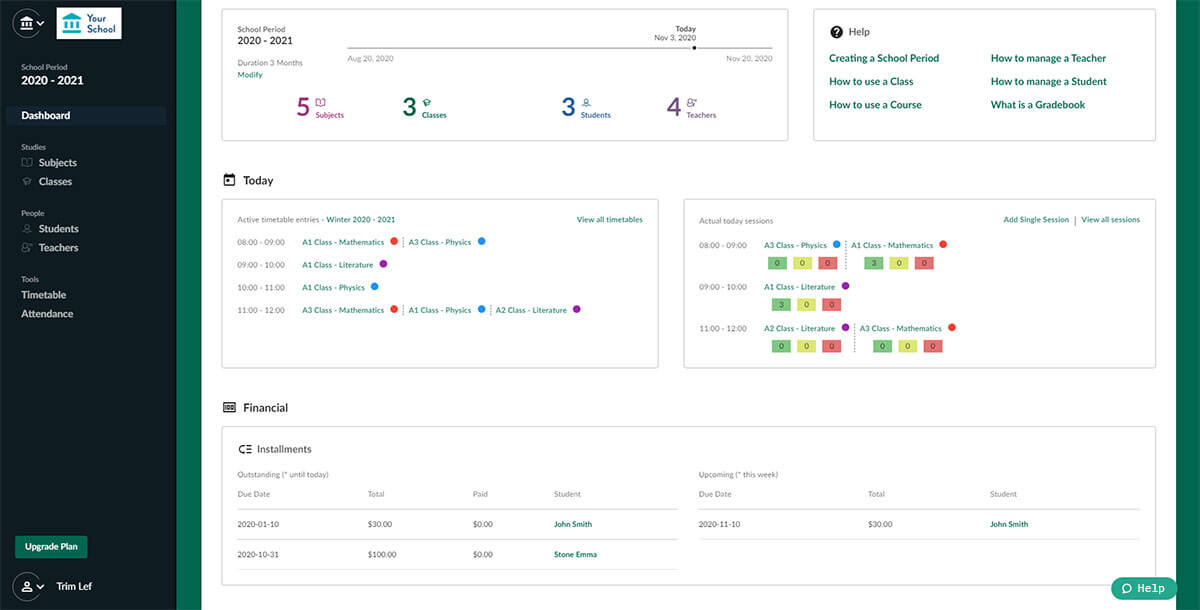 A new Dashboard is the first thing you notice when you log in to your DreamClass. It offers you an overview of major data you need to monitor. This way you're able to see the highlights of your active school period (number of students, classes, subjects and other entities), a snippet of today's timetable, an overview of financials/payments and any crucial updates sent out directly from teachers' accounts. In particular, the updates section allows you to know the exact number of students attending. As for excused and unexcused absences you'll also be in the know for exact numbers of each of them. More or less, the dashboard acts as your school cockpit that gives you a quick skim through of your school's data. Try it yourself.
Timetable management has never been simpler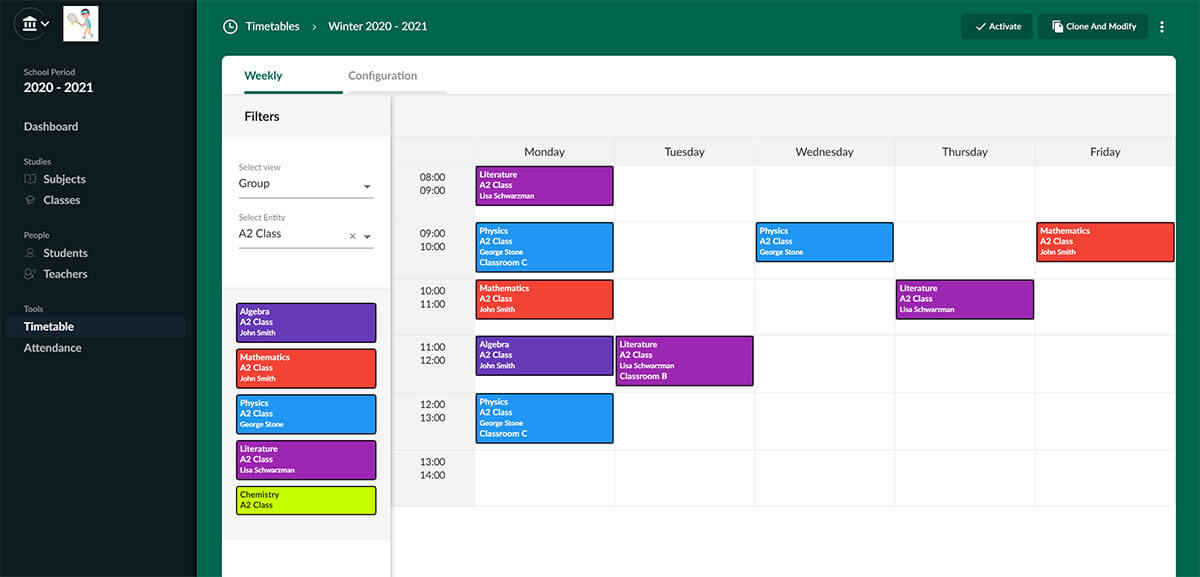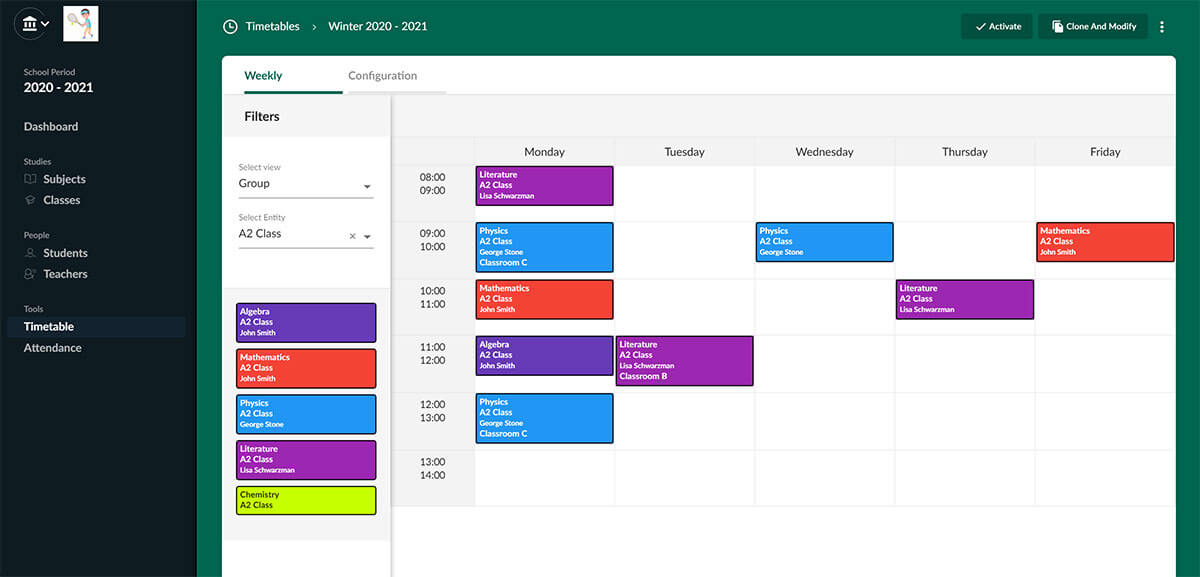 Was timetable a static structure that didn't help your school management? Now you are able to create multiple timetables, either from scratch or by cloning an existing one and have them pre-fixed and ready for you to use. Also, as expected you can activate one of them according to your needs and fire up your school.
Add teachers and get your whole team in the game.
Add teachers and let them monitor classes (all related data they have access to) they're assigned to. Teachers are also able to update attendance records per class letting you know all attendance data in real time from your account. Note here that your school's hierarchy structure is now feasible to be with different access rights within DreamClass.
Enjoy a smooth navigation within your DreamClass app
Took you some time to navigate your way round DreamClass and got discouraged? Well, we've heard your feedback and have made an all-round polishing of navigation. We now offer you a super easy navigation sidebar that allows for a clear navigation to classes, courses and all of your curriculum data. As you'll see this change we've made is in accordance with the rest of our modifications. And that because navigation is also supported by the changes we've made on curriculum creation. Also, our new dashboard that offers your clickable items that link you directly to timetable, students and other entities you want to view or edit. Check it yourself.
Release Notes
New features
With our new Dashboard you have an all-in-one view of the current active calendar, updates regarding attendance and an overview of upcoming financials and payments .
Also, DreamClass now offers you a flexible timetable management. You can create and clone multiple timetables per school period. And by activating one of them you can manage all your teaching sessions efficiently.
We have also upgraded DreamClass and now made adding teachers available to you. Teachers can view data of classes they are currently assigned to and they can also update attendance records in real time.
Improvements
Improved our navigation menu and now it's for you to find all of your school entities in seconds.
Improved mobile UI and now you enjoy smooth flow from your mobile devices.
Bugs fixed
Previously, when you attempted to navigate between different school periods you would notice a navigation issue. Now everything works just fine.
We also fixed a bug with fees recalculation that could occur after registering a student to more than one class.
And also, prior to this release there was a problem when you activated more than one timetable at a time. We fixed it!