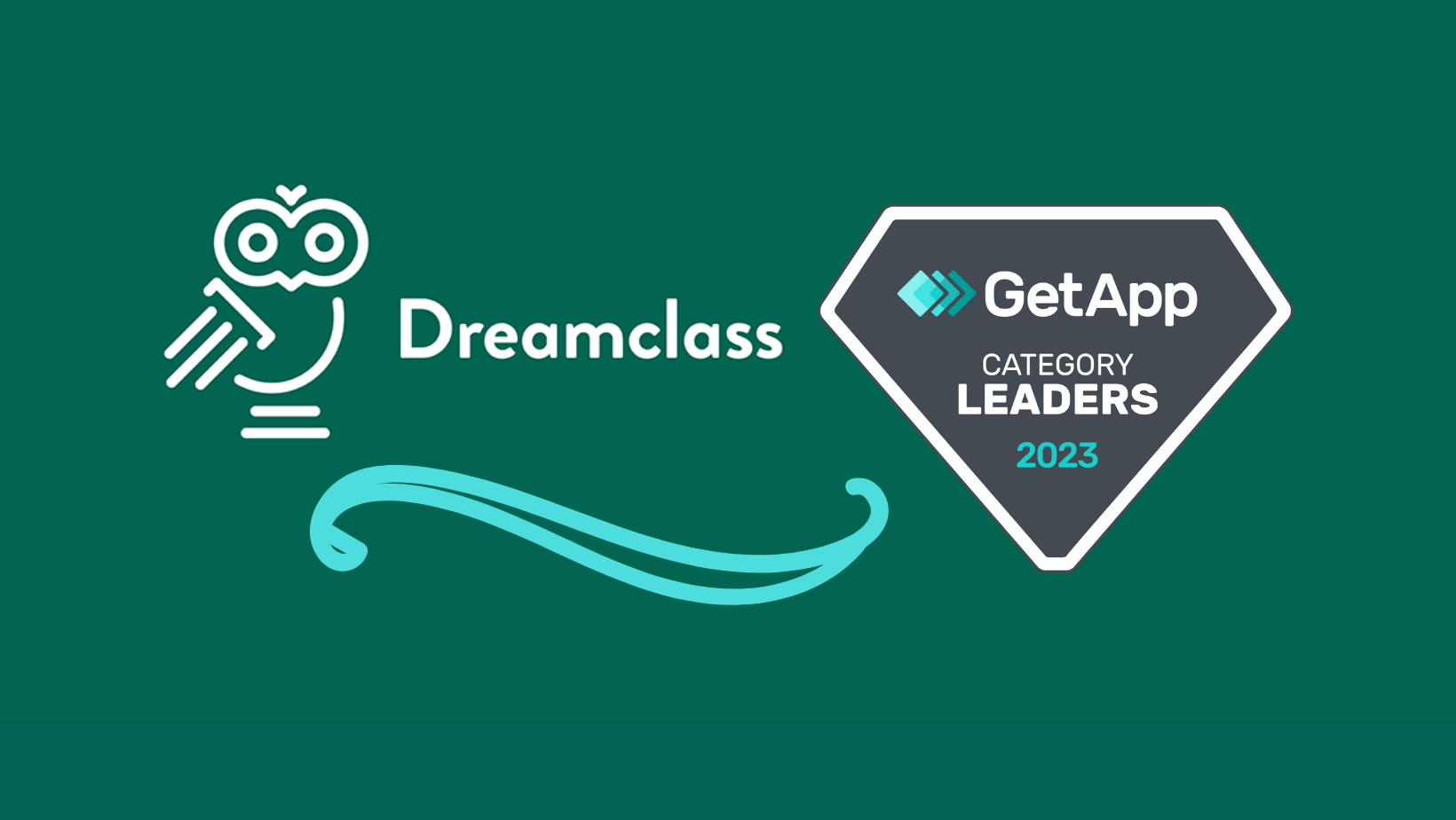 DreamClass has been recognized by GetApp as a Category Leader in School Management Software, and we are delighted to share this news with you! This recognition is a testament to our dedication to delivering an innovative product that caters to the needs of our customers.
As a leading player in the industry, DreamClass remains focused on empowering educational organizations with cutting-edge technology that simplifies their administrative processes; among other things.
Let's take a closer look at what this accolade means, and why it's important.
What is GetApp's "Category Leader in School Management Software" distinction all about?
GetApp is an online service that connects organizations with software solutions that are a perfect fit for their business needs. To accomplish this crucial task, GetApp's research team regularly assesses user reviews for the products listed on their website, categorized by industry.
So, what exactly is the "Category Leader in School Management Software" designation? This year, GetApp researchers evaluated hundreds of products in the School Management Software category. Only those that received top ratings from users in five critical areas were designated as Category Leaders.
These key areas include:
Ease of use
Value for money
Functionality
Customer support
Likelihood to recommend
And the good news is that DreamClass achieved high ratings in all five critical areas! This is a remarkable accomplishment, not only for us but also for our users. We always strive to provide the best possible product and customer support, and this recognition validates our efforts.

---
We owe this achievement to our valued customers, whose continued support and invaluable feedback have made it possible.
Thank you for being a part of our success story!
---

Some of your wonderful reviews that got DreamClass this distinction
DreamClass achieved the status of a top-rated product on GetApp with an overall rating of 4.8, and an average score of 4.9 in the School Management category, outpacing 235 other products!
Once again, our esteemed customers have played a pivotal role in helping us earn this honor, by sharing their positive experiences with DreamClass on GetApp.
Here are a few of their glowing reviews that contributed to our recognition as a Leader in the School Management Software category:

"As a new university, we required a student information system to run efficiently. The first information system we contracted with was not a good fit for John Melvin University as it was designed for K-12. We used it for one semester while immediately searching for something else. During that search, we encountered DreamClass. DreamClass has offered several modifications, at every level, to ensure this system will work for our school. As a bonus, they also initially set up courses/programs. That is something we had to do ourselves in the original system. I would recommend DreamClass to any school looking for a student information system." — Karen W.

"The customer service is outstanding! I have never worked with a company that will not only email you in a timely manner, but they will hop on a Zoom call and personally work through any issues that may arise. Hands down – great experience so far with DreamClass." — Melissa W.


"By implementing Dreamclass we have streamlined our processes at the school, reduced data entry and increased transparency of account management to reduce errors. Overall a great boost to business productivity." — Ira W.
Thank you for trusting us and being a part of this achievement!
As a closing note, we'd like to express our gratitude to our customers, once again, for placing their trust in us; and for contributing to this success! It is undeniable that you played a significant role in getting DreamClass recognized as a Leader in the School Management Software Category.
That said, if you're currently looking for one of the best School Management solutions on the market, look no further than DreamClass. Our solution can help you optimize your processes and improve employee productivity, enabling you to concentrate more on your students and their education.

And, if you're already a happy customer, please take a moment to share your experience with DreamClass on GetApp to assist other schools in benefiting from our School Management solution!
---
There's more!


Works for any type of school
Let's discuss if it works for your school