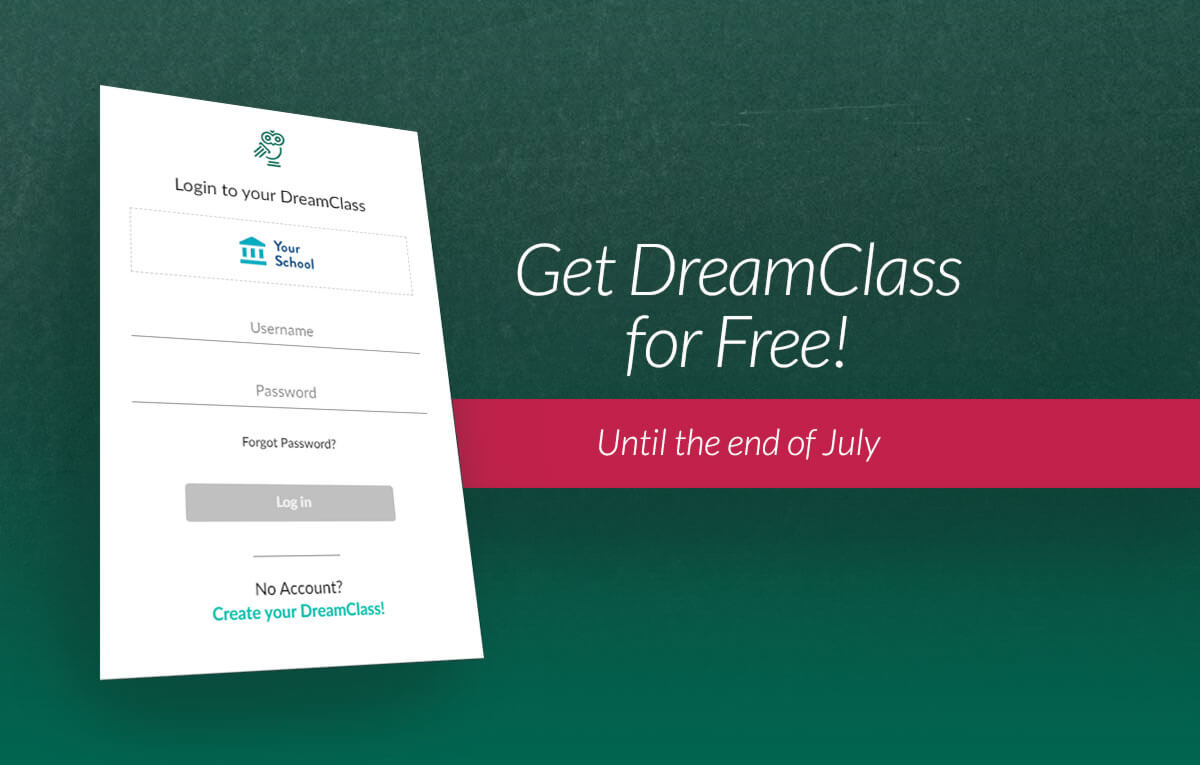 Adjusting to our new reality is what it takes to cope, during these troubled times. That's why we're offering DreamClass, our school information management system, for free, till the end of July.
We're certain it will help teachers and school administrators manage their school easily, from a distance. And it's the right product for any school of any size.
Why we're offering DreamClass for free
We know exactly how schoolteachers, educators and people in charge of educational institutions feel when total or partial lockdown comes into play. We have previously discussed all about the challenges of working from home. And though things might have already started to become somewhat stable in many places all over the world, the uncertainty that we're all experiencing leaves no room for inductive predictions as for when we'll be getting back to normal. That's why we felt like offering our service for free. It is sure to help with your educational institution management.
As a teacher, administrator or any other role that wants you to be in charge of a school organization, you might feel helpless in light of our current need for social distancing. Your educational institution needs faculty to gather up and work together in managing knowledge and helping students. And students need to be in their classes, learning. Even though neither can be safely done these days, we find ourselves in an odd impasse. But your educational organization is not a retail store where you can get what you need, whenever you need it. It's all about true education and learning cannot really be halted, can it?
Having been a part of the education system ourselves, we understand your needs. And we want to offer you a way to run your school from distance, effectively. Besides, even now, we're not far away from the reality you're experiencing this period. Members of our advisory board are actively involved in education either as teachers or as administrators. And we know exactly the challenges that you're faced with. That's why we offer you DreamClass for free till the end of July.
Is DreamClass for free for my type of school?
Free registration is available on all three subscription plans, as you can see here. No matter the type or size of your school, we know you may not be able to enjoy the combined workforce of your entire school staff; you may even not have one, altogether. We always kept that little detail in mind. And we're confident that you'll easily understand how your school information management system will help you manage all administrative tasks. It's going to be easier than before and at a fraction of the time.
Do I really need a school management system such as DreamClass?
You may not have been using a school management system till now. Or, if you have been using one, but you had to quit it for any reason, such as unwarranted complexity or unbearable cost.
Using DreamClass, you'll get all the benefits out of a school management system that is designed to save time and minimize costs in student management, faculty management and financial management. You'll also get great use out of our class scheduling, gradebooks, assessments and communication features, to keep all parties up to well informed.
We are here to offer a solution that allows you to organize all school management tasks easily at a zero cost, for the first few months. And after that, we made sure it's most affordable, so you won't have to worry about it. What better way to keep on top of your game?
How do I get my free access to DreamClass?
All you have to do is, register with your email address here, for free. There are no credit card requirements and within a few clicks you'll have your DreamClass account ready to use. Then, you'll be able to login to your virtual school from your browser without any further complexities, just by using your email address. We'll be thrilled to have you on board!
DreamClass is a trouble-free school management system that requires no software downloads and keeps you away from setup headaches. You only need your browser and your email address. You'll then be able to create, manage and monitor all of your school entities. In brief, with DreamClass you can easily create classes and courses, register students, add teachers, distribute groups to classes and run all your administrative tasks efficiently.
What are my options once my free trial period comes to an end?
Once your free trial ends at the end of July 2020, you will then have the chance to get access to your account for thirty additional days, in order for you to subscribe to one of our subscription plans, if you so wish.
If, for any reason, you are not ready to upgrade your plan or in case you temporarily want to suspend your account, we've got you covered. All of your data will be archived and available to you in a computer-ready format; ready for you to resume and pick up the pace from where you left it.
Don't let this lockdown keep you from running your school efficiently
Start your school up again with DreamClass. Give yourself, your teachers and your students the chance to continue safely; and accept nothing but smooth sailing for your school's future. Keep safe and have a trouble-free educational journey!