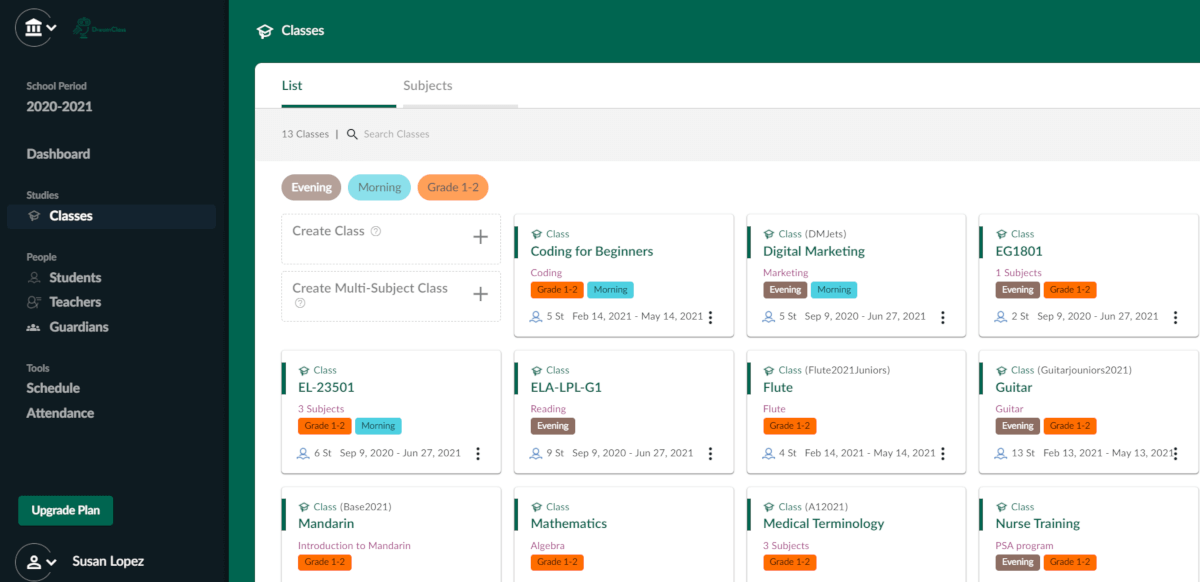 We've got some good news to share with you! Οur new tuition invoices feature is here! We've spruced up our financial management functionality, to further improve the flow of financial transactions with your customers, students and guardians. We've also made class management more intuitive, with tag grouping and further enhanced your reporting, with reports for student notes.
Let's go through these new changes!
Produce, share and file tuition invoices without a hitch
Until recently, your tuition management boiled down to following steps:
Create fee models for your classes,
assign them to enrolled students and then
Alternatively, you could simply mark payments as paid via cash, or bank transfer if the payment was processed outside of DreamClass.
As for the payment history, you could manually track everything, in the form of simple statements from your DreamClass account. Aiming to offer you optimal payments management, we've implemented new functionality that allows you to manage all of your tuition invoices, in a breeze.

More specifically, you are now able to create your invoices in a few clicks and automatically share them with guardians and students, since they will also be visible from within their portals. Furthermore, you can automatically keep track of the online payments you receive, as your clients proceed with them.
All in all, the benefits you'll now enjoy as an administrator or school principal, can be summarized as follows:
You can create tuition invoices, in bulk, for all — or a filtered list of — students enrolled in a particular class. This way, you can have all of their invoices ready to be filed on payment, once they've completed an online transaction, using one of the aforementioned payment options. Alternatively, you can mark them as paid, yourself (cash or bank transfer).
Have a look at your invoices reporting and take further action. Apart from the payments history and due payments reports, you're now able to view the list of students issued with invoices, per month.
Guardians and/or adult students, on the other hand, can view not only the list of their tuition fees, but also the invoices (marked as paid or unpaid) that have been issued to them. This way, they're able to directly proceed with any pending payments; or simply print and file their invoices.
Group Classes using tags
You are now able to create clusters of classes, using tag groups. Tag groups help you differentiate your classes, representing different levels, groups and/or subgroups of classes, as needed. All in all, you can create your own, unique structure of classes, by labeling each one of them with one or more specific tags.
This grouping capability helps you see all the classes that belong to a specific predefined group or subgroup and take further action, if needed. This functionality makes it easier for administrators to inspect classes, in seconds.
More specifically, once you've created a specific group tag, you can assign it a specific color and a name. In doing so, you are able to filter your color-coded and smartly-named group of classes, to instantly see all classes that serve a specific purpose.
For example, you may create groups of classes delivered by age; or you may create groups of classes delivered in the morning or the evening. Or a group of senior or junior classes or whichever grouping serves your school's needs.
Tag notes reporting
Did you know that you can also add tags to the notes you create for each one of your students?Besides that, you are now able to inspect the respective report. In short, you're not only able to add tags to each one of the notes you've created for your students; you are also able to view and filter students' notes, by tag.
That functionality could prove to be really helpful in different scenarios, as related to educational, financial or any other purpose. That is to say, you can create Behavioral- or Financial-oriented notes. For example, you can add a "Student with due payments" tag or a "Late to class" tag, with the respective detailed note; and use them to inspect or manage due payments. Or simply make use of them when there's a need to communicate such behavioral patterns to parents or guardians.