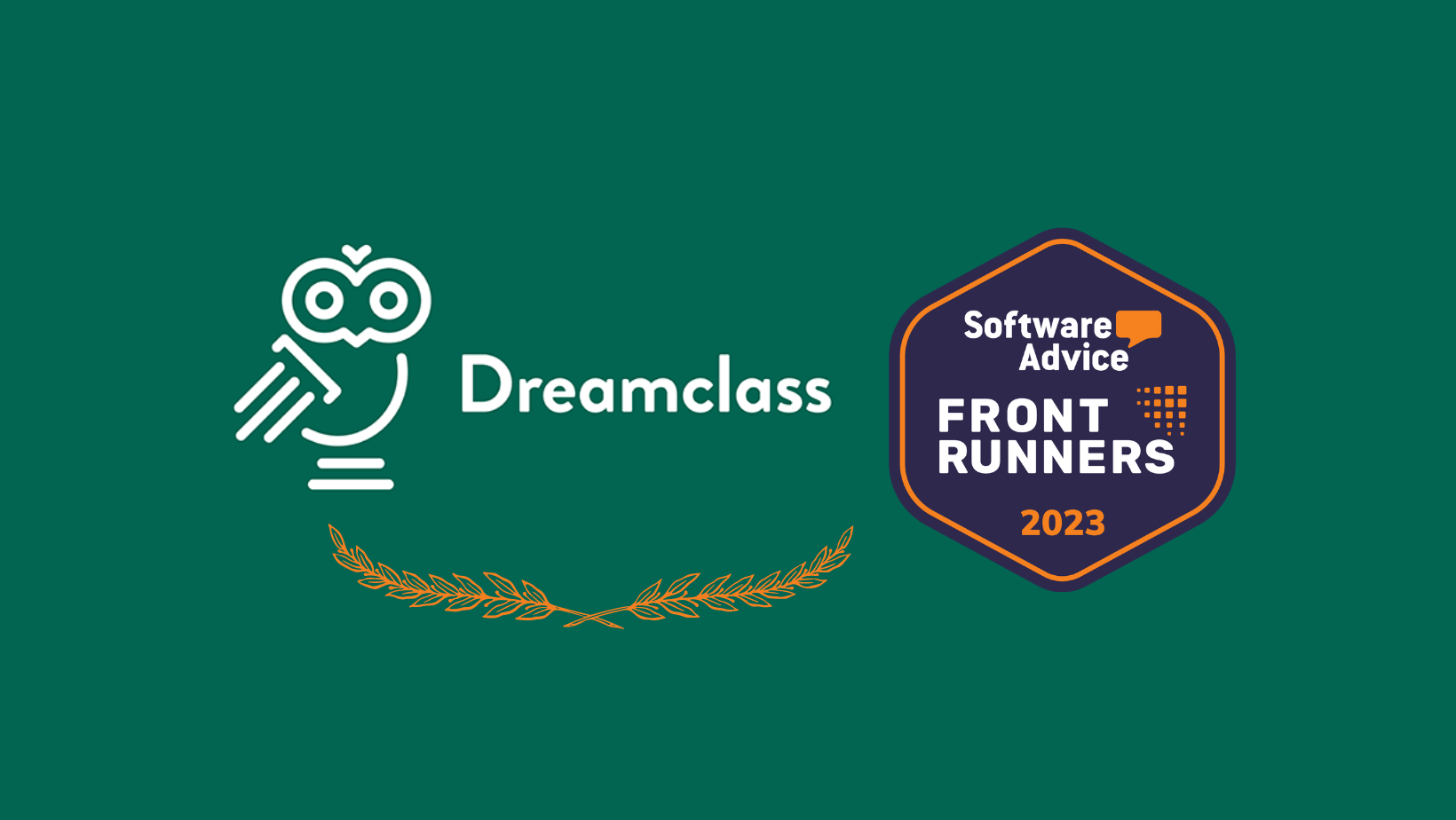 We are thrilled to announce our latest achievement, dear customers! DreamClass has once again been the users' top choice, receiving the prestigious recognition as a Frontrunner in the School Management Software category on Software Advice! 🎉🙌
With this new addition to our "awards collection", we're more excited than ever to continue innovating and providing one of the best School Management solutions in the market. 😊
How does a software product become a Frontrunner in the School Management Software category?
Software Advice is a free online service that helps businesses find the most suitable software for their needs. So far so good, but how does Software Advice decide which products get to be a Frontrunner? Let's have a look at this year's process.

So, for this year's Frontrunner report, the Software Advice research team evaluated and selected the top-rated School Management Software products based on real user reviews. Their meticulous assessment methodology made sure that only the products that scored high in ease of use and customer satisfaction made it to the final Frontrunner list of 2023.

You see now why being acknowledged as a Frontrunner in the School Management Software category is such an honor for DreamClass! This flagship report of Software Advice is a valuable resource for businesses looking for the best School Management Software products on the market. If anything, being included means that DreamClass has managed to meet the needs of its customers, and helped them achieve their goals.
User testimonials that ranked DreamClass as a Frontrunner in the School Management Software category
Without a doubt, DreamClass owes its success to its incredible user community. We are so grateful for the overwhelming support and trust our users have placed in our product and our team! With an overall rating of 4.75 out of 5, our users' reviews are a testament to our efforts in providing cutting-edge School Management Software and exceptional customer service.
Below are only some of the testimonials from our valued users that got us ranked as a Frontrunner in the School Management Software category on Software Advice:

Kimberly, who has been using DreamClass for some time now, shared her positive experience, saying:

"We have enjoyed using DreamClass for the last 9 or so months and have moved into the platform with ease, thanks to the wonderful customer service we always receive! Any question, they are always there to help quickly!"

Katie, who transitioned to DreamClass from another software solution, praised our platform's ease of use, stating:


"The features that are available fit what we were looking for. Previously, we had spent 2 years trying to get Classter set up for our needs, but we ran into one problem after another and were never able to use it! We have only been setting up DreamClass for about 2 weeks, and it's ready to use. Customer service is wonderful, questions are answered quickly. They are constantly rolling out new features, and so far, it has been a vastly different experience than what we went through with Classter."
We simply can't thank you enough, dear users for your continuous support and feedback! Such amazing reviews fuel our drive to continue enhancing DreamClass and making it the best School Management Software available.
---
Have you written a review for DreamClass on Software Advice yet?
If not, share your experience with other educational institutions today
and help them make an informed decision when choosing a School Management solution.
---
The best School Management Software for you
While we are over the moon about DreamClass's recognition as a Frontrunner in the School Management Software category on Software Advice, our focus is always directed toward the future. That goes to say, we couldn't be complacent with this victory. Quite the contrary, we're fully dedicated to bringing DreamClass to perfect alignment with the ever-changing needs of modern educational institutions.
In closing, we want to express our heartfelt gratitude once more for your unwavering support, and let you know that we will remain focused on making DreamClass the best School Management Software for you! 💚🦉🌟
---
There's more!


Works for any type of school
Let's discuss if it works for your school