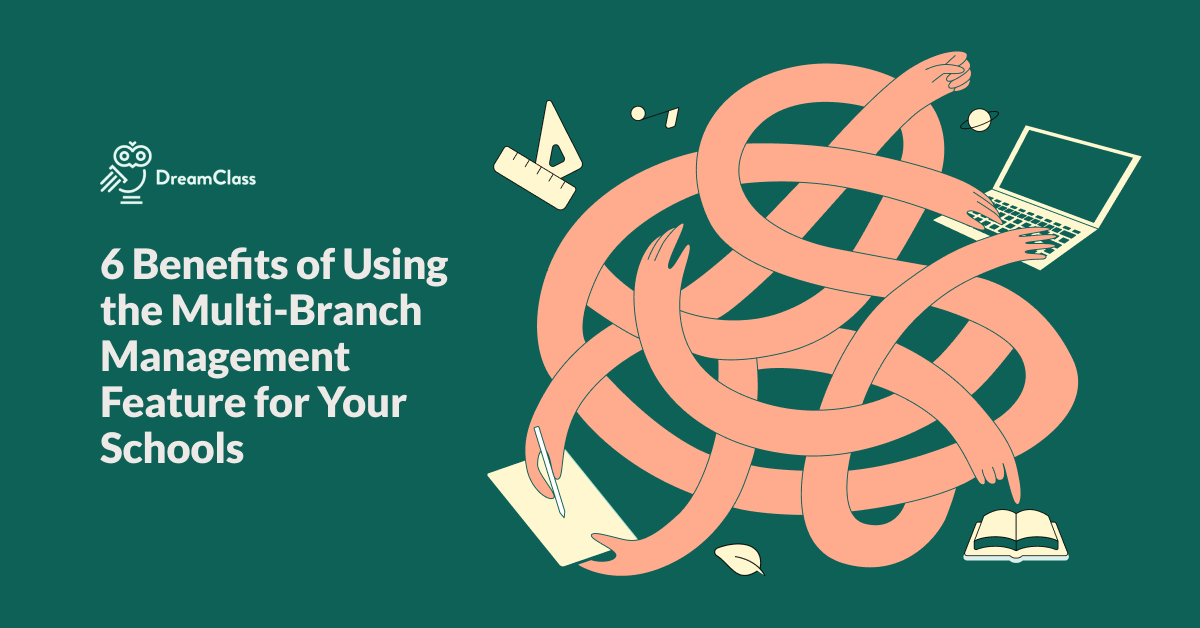 In the ever-evolving landscape of education, technological advancements continue redefining how educational institutions operate. And now, DreamClass is at the forefront of this digital revolution with its latest groundbreaking feature: multi-branch management.
But what exactly is multi-branch management all about? Simply put, it's an innovative functionality that simplifies the management of multiple branches within educational institutions. It provides administrators with a comprehensive solution for efficient and streamlined operations.
So, without further ado, let's delve into the details of this innovative feature and explore how it can benefit your schools!
Making the case for a centralized multi-branch management system in educational institutions
One may ask, "Why should one opt for a multi-branch management system instead of implementing individual school management software for each branch?". That's a valid question indeed, and we'd be happy to elaborate on this.
While school branches may operate independently, it's crucial to understand that they're not separate entities. Instead, they function under the same mission and aim to deliver a consistent learning experience that is aligned with this central mission. However, if each branch implements its own software, this may result in inefficiencies in the long run.
To achieve the desired consistency, it is imperative for an educational institution to establish standardized operations, processes, and overall branch management for their schools. This is where the adoption of a centralized multi-school management system, like the one DreamClass offers, becomes crucial. By utilizing such a system, as the primary administrator, you can ensure consistency among all branches, leading to more cohesive operations overall.
Why use DreamClass's multi-branch management feature for your schools?
DreamClass's new multi-branch management feature is specially designed for educational institutions that are seeking seamless administration across multiple school branches. With this feature, administrators and teachers alike can enjoy the flexibility of unique customizations tailored to each branch's needs, all within a single centralized account.
No matter if you're responsible for managing preschools, elementary schools, high schools, or any other type of school, DreamClass offers you the freedom to customize various aspects for each branch.
You have the ability to tailor courses, classes, and calendars to meet the specific needs of each branch. Moreover, you can configure grading systems, transcript layouts, report cards, invoice templates, fees, and messaging services according to every school's preferences.
But that's not all! DreamClass's multi-branch management feature goes beyond catering to diverse school types. It is also designed to assist geographically dispersed schools that encounter specific challenges, such as different currencies, regulations, payment procedures, and local particularities. Thankfully, with DreamClass, you can guarantee seamless operations regardless of the locations of your branches.
Top 6 benefits of utilizing dreamClass's multi-branch management feature
Now let's explore, in more detail, how DreamClass's multi-branch management capability can benefit your educational institution.
1. Centralizes administration
Traditionally, managing multiple branches is a complex and time-consuming task, often requiring the supervision of separate systems and processes for each school. With multi-branch management, you can centrally manage multiple branches from a single DreamClass account.
This way, you can streamline administrative tasks, such as student enrollment, staff management, curriculum planning, and communication across branches. Furthermore, you can eliminate the need for separate systems or manual coordination, ultimately saving time and effort.
2. Improves communication and collaboration
Another important benefit of utilizing the multi-branch management feature is enabling seamless collaboration and communication among your branches. Local administrators, teachers, and staff can easily share resources, best practices, and important information across all branches, fostering a sense of unity and cooperation.
By leveraging this feature, you can enhance coordination and reduce duplication of efforts, leading to improved efficiency and productivity.
3. Standardizes processes and policies
As you are likely aware, educational establishments often strive for consistency and standardization across their branches. The main reason behind this effort is to promote fairness, quality, efficiency, and accountability within the institution.
The great news is that through DreamClass's multi-branch management, you can quickly implement and enforce standardized processes, policies, and workflows across all your branches. Consequently, you guarantee consistency in critical areas like admissions, grading, attendance, etc.
4. Collect and manage student and staff data
Maintaining accurate, up-to-date records of students and staff is crucial for any educational institution. With the multi-branch management feature, DreamClass offers a centralized place to collect and manage student and staff information from all branches.
This centralized approach streamlines data management, making it easier to track student progress, monitor attendance, and manage various tasks. You can access and update information across branches securely and efficiently, promoting data integrity, identifying areas for improvement, and enhancing decision-making processes.
5. Enhances financial management
Managing finances across multiple schools can be a daunting task and, more often than not, prone to errors and discrepancies. However, by utilizing the multi-branch management capability, you can incorporate robust financial management capabilities to consolidate financial data from your schools.
In this regard, you can seamlessly monitor budgets, track expenses, generate reports, and ensure financial compliance. By streamlining financial processes, you immediately eliminate the complexities associated with managing several local economic laws and other intricate financial aspects.
6. Supports scalability and growth
Last but not least, the multi-branch management feature can eventually support scalability and growth. How so? Well, it provides a flexible framework to add new branches seamlessly and expand operations without significant disruptions. The centralized nature of this feature facilitates overall management, ensuring a smooth transition when new school branches are established.
Are you still struggling with the challenges of managing multiple schools?
As educational institutions expand and embrace multi-branch setups, streamlining school management becomes critical to their success. Fortunately, DreamClass's multi-branch management feature provides administrators overseeing multiple school branches with a comprehensive and user-friendly solution.
By improving administrative efficiency, fostering collaboration, ensuring uniformity across branches, and streamlining financial management, this innovative feature helps you boost the growth and development of your institution.
Don't struggle with the challenges of managing multiple schools, anymore. Sign up with DreamClass to take your multi-branch management to the next level!