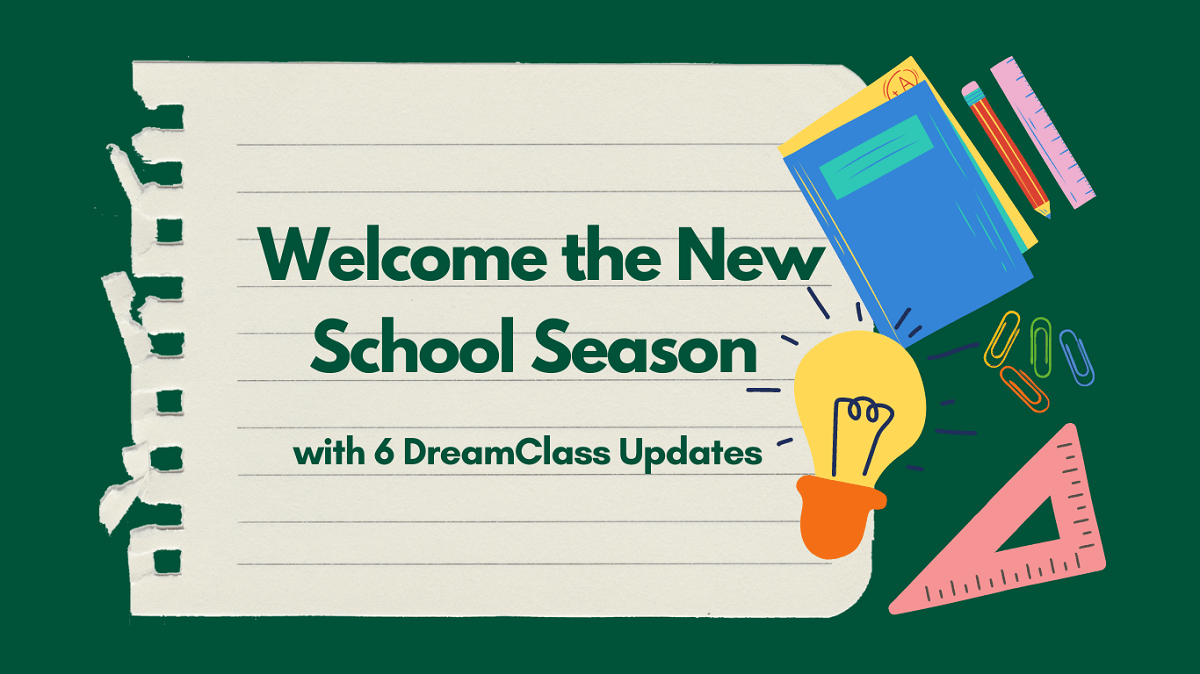 The new school season is here in most states across the country, and we have some exciting news to share with you! We've been working tirelessly to enhance the overall user experience, and we're thrilled to announce six DreamClas updates that will take your school management processes to the next level.
Without further ado, let's explore them one by one!
6 DreamClass Updates to Elevate Your School Management
1. A Refreshed Gradebook for Effortless Performance Tracking
The new DreamClass Gradebook is here with enhanced functionality! We know how important accurate performance tracking is, so we've built a total average into the Gradebook feature that automatically calculates your students' performance. This means no more manual calculations for you!
Let DreamClass handle the heavy lifting while you focus on offering quality education to your students.
2. Streamlined Admissions Process, and Added Customization & Anonymous Surveys
We've taken your feedback to heart and made significant improvements to our admissions feature. Accepting applications is now a one-click process! Gone are the days of following two separate steps for creating student accounts and assigning courses to students – we've integrated them into one smooth and seamless step!
What's more, you can add notes and attach files to the new application forms, and, thus, ensure that no vital information is overlooked.
But, hey, there's more to the new DreamClass updates when it comes to admissions! We've introduced a new and improved functionality that showcases your school's logo prominently, giving it the recognition it deserves. And, that's not all — you also have the option to customize your school's color, ensuring it perfectly matches your brand identity.
Should you require any assistance with this feature, feel free to reach out to our team at sales@dreamclass.io. We're always happy to lend a helping hand!
Here's another thrilling addition to the admissions feature: Anonymous surveys! Access this feature through the admissions menu and pose essential questions to your clients like "How can we improve our school's services?". This way, you'll gather valuable insights while ensuring complete confidentiality. At DreamClass, we believe in the power of feedback, and with these anonymous surveys, we ensure that you can collect crucial data and make informed decisions without compromising anyone's privacy.
3. Enhanced Communication with Boosted SMS and Email Capabilities
DreamClass has stepped up its SMS and email game with some exciting new capabilities. Teachers now have the ability to send SMS messages, and administrators can effortlessly "copy" teachers in mass SMS communications. Also, super admins can conveniently view all emails sent by different senders in the sent emails menu. Additionally, you can now access all emails sent through the admission email functionality under the designated period setup.
These SMS and email enhancements ensure a smoother and more organized communication process within DreamClass!
4. Automated the Invoicing Process, and Introduced New Student Ledger Cards
Get ready for a game-changing upgrade to our invoicing system! We're excited to introduce two new DreamClass updates that will revolutionize your financial processes.
We've automated the invoicing process, offering parents a secure platform to enter their credit card details. This functionality allows your administrators to automatically withdraw tuition amounts from the parents' connected bank accounts, eliminating the need for manual invoicing. It's a win-win situation for both parents and the school, ensuring a convenient and hassle-free payment process.
For step-by-step guidance on setting up this feature, please don't hesitate to contact us at success@dreamclass.io.
We're also proud to unveil the brand-new student ledger card — a comprehensive document that simplifies overall financial management. This feature allows for efficient financial tracking, as it summarizes all financial transactions related to each student. It offers a clear breakdown of all costs charged to your students, as well as any fees received from them or other funding sources deposited on their behalf.
With these groundbreaking updates, DreamClass has made financial management a breeze for your school!
5. Reinforced Visibility Settings for Privacy and Security
We've also made significant updates to your visibility settings for an extra layer of privacy and security. Here's what to expect:
New Admin Settings
As an admin, you have the option to hide the students' financial details, to ensure better privacy and security across the institution.
Student Birthdays
We understand that student birthdays may not always be crucial information. Hence, in this DreamClass update, we provide you with the option to hide this data and ensure greater confidentiality. If you need any assistance with making this adjustment, our dedicated Success Team is standing by to help you out.
Classmates Data Protection
With this functionality, you can hide student data, making sure that sensitive student information remains accessible only to authorized individuals.
Restricted Access to Payment Details
You might prefer to avoid situations where fellow students or parents can access the financial information of other students. That's why we provide teachers with the option to hide the students' payment information tab. Again, if you require assistance implementing this feature, feel free to contact our Success Team.
With these improved visibility settings, you gain greater control over the information shared within your educational environment, providing a more secure experience with DreamClass.
6. Optimized Transcripts and Report Cards
In response to your invaluable feedback, we have implemented noteworthy enhancements to transcripts and report cards. To elaborate, we've included course duration and course code in both transcripts and report cards, providing a better understanding of the academic journey of your students. We've also introduced a customizable school signature capability to give these documents a more official and personalized touch.
We believe these improvements will elevate your academic reporting process and make it more seamless for everyone involved.
All Set for an Exciting School Season Ahead with DreamClass!
And so, these are the latest updates to DreamClass — many of which were designed with your valuable feedback and suggestions in mind. Thanks to you, DreamClass is now more robust user-friendly, and tailored to meet the ever-evolving needs of your institution!
Should you require any guidance or support in navigating the new updates, our dedicated support team is always ready to assist you at support@dreamclass.io.
That was it, for now!
Embrace these empowering DreamClass updates and get ready for an exciting new school season!