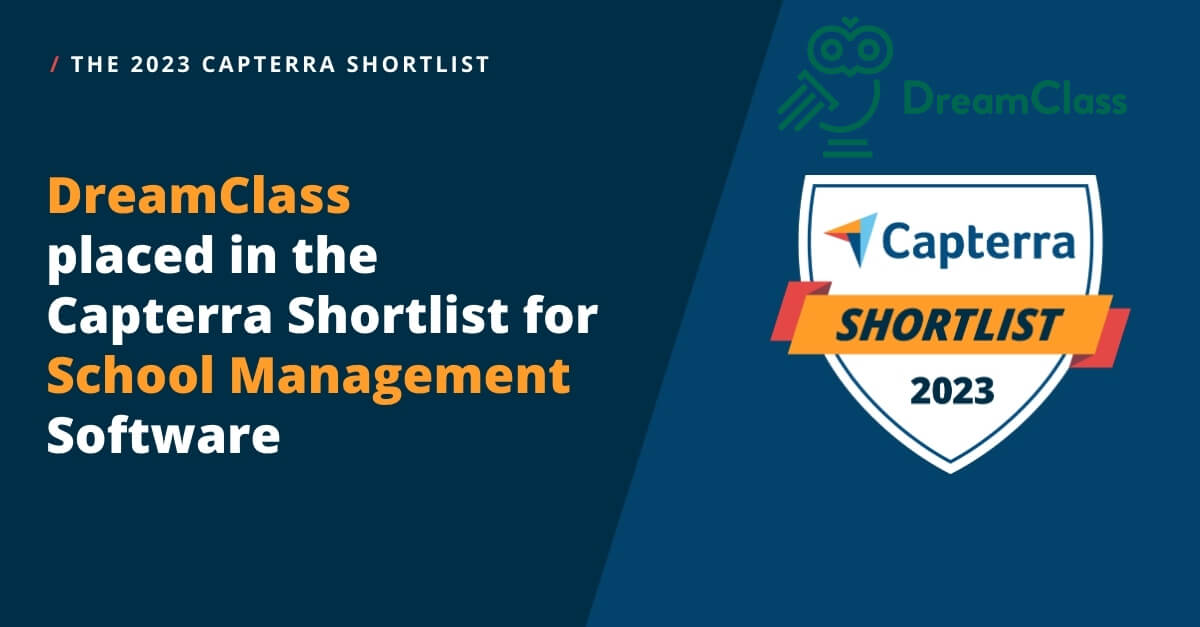 We've got some exciting news to share with you: DreamClass is recognized as an "Emerging Favorite" in Capterra's 2023 School Management Software Shortlist🥳! This recognition marks another milestone for us, as it proves that our customers are receiving value from DreamClass and that they're overall happy with the platform.
To better understand what this distinction means, let's see what the Capterra 2023 shortlist is all about; and why it matters to you too, dear customer.
What is Capterra's School Management Software Shortlist about?
For those who don't know, Capterra is an online product review listing service that helps organizations find and compare software solutions. They offer a wide range of categories and subcategories, making it easy for organizations to find the product they need.
Every year, Capterra evaluates software solutions and creates a shortlist of the top-performing products in various categories based on user reviews and ratings. For this year's School Management Software category, they analyzed and evaluated over 800 products listed in their directory. Finally, Capterra selected the ones that stood out as the most popular and highly rated among users — and, yes, DreamClass was among them! 🙌
Why should our users care about this distinction?
What does this distinction mean for you, our users? And, why should you care about it, in the first place? Being included in the Capterra 2023 School Management Software Shortlist speaks volumes about DreamClass's quality. It's also a testament to the dedication that we put into creating an across-the-board school management platform for you. Indeed, we're constantly working to improve Dreamclass and make it the best possible solution for schools and educational institutions, like yours. And being recognized by Capterra is proof that we're on the right track.
Now, isn't it great to know that you have a robust school management platform backing your organization's daily operations? Also, as an administrator, don't you feel safer knowing that a dedicated team is here to lend a listening ear, and help you solve the problems you face daily at your job?
Some of the reviews that took DreamClass to the top
With an overall rating of 4.8 out of 5, you gave us some stellar reviews on Capterra dear customers 🙏! Here are just a few of the things you've written, and got DreamClass included in Capterra's 2023 School Management Software Shortlist:
"I would recommend DreamClass to others. They are attentive to your needs and willing to go the extra mile for your organization."
— Melissa W.
"All data is in one place – it makes keeping records of students easy. Making changes to registration is pretty simple."
— Ruthie T.
"I like that it makes my job a lot easier compared to all the data entry and emails I used to send most are automated now. Instead of using 2-3 different platforms to collect student registration, collect payments, and make contact with parents, all 3 of these are done in one place. The DreamClass team has been so helpful!!!!!!!!!!!!"
— Michaela H.
You certainly are the ones that made this recognition possible on Capterra; and we're incredibly grateful for the positive feedback we've been receiving from you, from day one. You can rest assured, we're not going to rest on our oars; we're 100% committed to continuing to improve and evolve DreamClass for you!
Have you written a review on Capterra about your experience with DreamClass dear user?
For you, who are yet to become a happy DreamClass user!
For those who haven't used DreamClass yet, and are reading this post, let us give you a quick overview of what we offer. Dreamclass is a cloud-based school management system that helps educational organizations streamline every aspect of their administrative processes.
Our platform boasts a diverse range of features — encompassing everything from class management and class schedules to admissions and academic management; as well as student fees and teacher payment processing.
One of the things that sets DreamClass apart from other school management platforms is our focus on user experience and our unmatched customer support service. We believe that software should be intuitive and easy to use, and we've designed our platform with that in mind. What's more, our friendly customer support team is happy to help you tackle any challenges you may face while maximizing the full potential of DreamClass's features.
So, whether you're an administrator or a teacher you'll find that DreamClass is straightforward, with all the features you need to efficiently manage your daily tasks.
To discuss how DreamClass can help you streamline your everyday operations
Focused on the way forward
Although we're thrilled to have made it into Capterra's 2023 School Management Software Shortlist, we're also focused on the way forward. We do appreciate your positive feedback and remain committed to improving and refining DreamClass to meet your evolving needs.
We're excited about what lies ahead and are grateful for your continued support as we embark on this journey together. Thank you, once again, for being a part of the DreamClass community! 🦉💚
---
There's more!
Works for any type of school
Let's discuss if it works for your school